Telangana will be 29th state, Hyderabad to be common capital for 10 years
LINK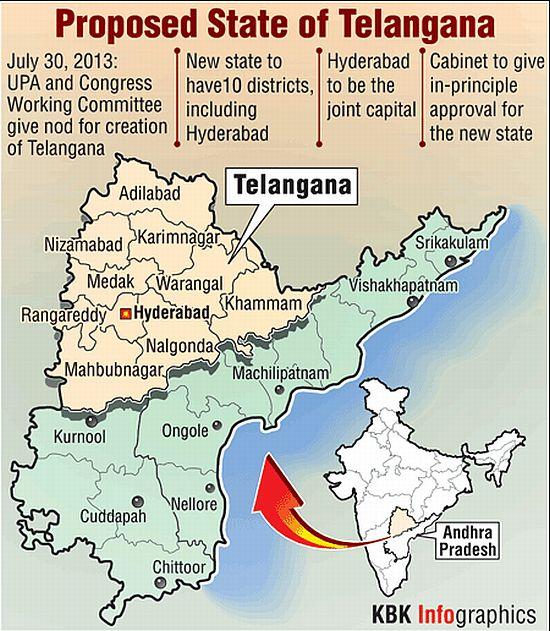 Telangana will be the 29th state of India comprising 10 districts with plenty of water and some other natural resources in a backward region lacking development that was at the heart of the separate state demand.
As and when the state is formed, the jewel in the crown will always be the city of Hyderabad, which may for some time, at least 10 years to start with, be the joint capital for the rest of Andhra.



With a population of over 3.5 crore, the new state comprising mostly the areas of the princely Nizam state will have 17 Lok Sabha seats and 119 assembly seats.
When it joins the Indian Union, people of the region would hope that the new identity would help them overcome the challenges of poverty and backwardness which were at the roots of the separate state movement.
The demand for a separate identity for Telangana is virtually as old as the state of Andhra Pradesh, which came into existence in November 1956 through the States Reorganisation Act.
The Andhra Pradesh government website says: "Telangana agitation was started by the people of the region when they felt that Andhra leaders had flouted the Gentlemen's Agreement which facilitated the formation of Andhra Pradesh.
"In the beginning, the movement demanded the implementation of the safeguards agreed upon earlier, but later it wanted the separation of Telangana from Andhra Pradesh."
That the seat of government in Hyderabad has persistently ignored the needs of Telangana at the expense of the other regions of the state has been a constant grouse of the advocates of separate statehood.
The new Telangana state would comprise the 10 districts of Hyderabad, Medak, Adilabad, Khammam, Karimnagar, Mahbubnagar, Nalgonda, Nizamabad, Rangareddy and Warangal.
Now, according to the Backward Regions Grant Fund 2009-10, 13 districts in Andhra Pradesh have been identified as being backward, of which nine are in Telangana.
Classified as a semi-arid region with a predominantly hot and dry climate, Telangana is not amongst the most fertile regions of the country.
But it does have its share of natural resources and notably contains 20% of the country's coal deposits.
Among other natural resources are mica and bauxite along with some limestone reserves.
But given the lack of development, Telangana has served as a fertile ground for the Maoist insurgency to take root.
A clutch of leaders of the Naxalite movement hail from the region. Slain Maoist Kishanji, who was No.3 in the rebels' hierarchy, hailed from Karimnagar district.
As proponents of a separate Telangana claim, the carving out of a new state would give a fresh impetus for the people of the region to aspire for growth and development.
Especially with the inclusion of Hyderabad, Telangana would find itself in control of one of the primary centres of India's tech story.
Offices of major national and international corporates houses are present in Hyderabad, drawing people from across the country to the city.
Needless to say it is the loss of Hyderabad which would rankle most with 'Unified Andhra' supporters.
But the people of Telangana argue that the seat of the Nizams was always an integral part of their region.
The Telangana agitation, as they point out, was started by the people of the region who complained that "Andhra" leaders had flouted the "Gentlemen's Agreement" which had facilitated the formation of the state, in November 1956.
The feeling of betrayal was also implicit in the discontent, which spread among Telangana officials and the unemployed youth of the region, who felt they were being exploited by the people from the rest of the state who had flocked to the new capital.
20 Responses to "Telangana will be 29th state, Hyderabad to be common capital for 10 years"
One of the pieces made the interesting point that this is the first a state originally created on linguistic grounds has been further split.

They fulfilled Nehru's wish, "Its matrimonial alliance with a provision for Divorce"

He wanted Nizam merger also through UNO route ….

utterly stupid fellow…and look at his offsprings…worse than him!

"if you threatens us with violence swords will be met with swords "…the famous sardar patel lines to nizam

cinematically such a fine actor(paresh rawal another gujju) portrayed sardar

there was a reason sardar did operation polo in absence of nehru

Nizam territory will remain indispensable for Tollywood
Jul 31, 2013, 06.09AM IST

HYDERABAD: Division of the state notwithstanding, the Nizam territory comprising Telangana districts will continue to remain integral to the Andhra-dominated Rs 1,000-crore film industry.

In film business parlance, the distribution rights are bought for what is called the Nizam area, ceded, and Andhra. More than 50% of a Tollywood revenue is generated only from the Nizam area, a territory which is specially targeted for box-office collections.

Though none of the top heroes in the Telugu film industry may hail from the region, films of Mahesh Babu, Jr NTR, Pawan Kalyan, Ram Charan Tej, Venkatesh, Nagarjuna are top grossers in the Nizam territory. Telangana accent and culture, too, are being seen as key ingredients for success of Telugu films. In fact, in Pawan Kalyan's Gabbar Singh, the antyakshari song in a police station by the villains who speak in Telangana lingo went on to become a huge hit. For the all-important Nizam territory, distributors shell out up to Rs 10 crore for the rights of an 'A' grade hero. If film trade reports are to be believed, of the Rs 78 crore that 'Magadheera' raked in, more than 50% gains were from Telangana. There are 450 theatres in Telangana, including nearly 160 in Hyderabad alone.

The Nizam territory comprises the twin cities of Hyderabad and Secunderabad, Adilabad, Khammam, Mahbubnagar, Karimnagar, Nalgonda, Medak, Nizamabad, Rangareddy and Warangal. For film trade purpose, the territory also includes the three districts of Gulbarga, Bidar, and Raichur in Karnataka and seven districts in the Marathwada region including Aurangabad, Latur, Nanded, Parbhani, Bheed, Jalna and Osmanabad.

Apart from the Telugu film industry, even Bollywood sells territory rights of the Nizam area including all these districts. The ceded districts of Chittoor, Anantapur, Kurnool and Kadapa account for about 20% of the collections while about 30% may come from the coastal Andhra districts. According to film trade pundits, the heroes of the day who have a larger than lifesize image mainly cater to the Telangana audience who want his hero to be invincible."A division of the state will not affect the film industry's business as all the infrastructure is here and films will continue to be released the way they are. Perhaps, if there are more Telangana heroes coming on to the scene, they may get more acceptability," film analyst Jeevi said.

The problem, however, is of investment. According to sources, most financiers come from the Rayalaseema region and big-time producers are from the Andhra region. In so far as talent in Telangana is concerned, actor Nitin has made his mark as a hero and there is hardly anybody else. Directors like Shankar and Harish Shankar have made their mark, apart from music directors and lyricists like Chakri and Chandrabose. Distributor-producer `Dil' Raju is now a big name in the film industry.

The Telangana film chamber of Commerce which has played a major role in pushing the cause of a separate Telangana state is elated over the developments. "Quite naturally, in the event of a division, the Andhra Pradesh Film Chamber of Commerce will not be called so anymore. Either it can be called Telugu film chamber of commerce, or an Andhra film chamber of commerce will have to be carved out separately as a Telangana film chamber of commerce already exists," said TFCC president M Vijayendar Reddy.

Jokes are already out!
A guy goes to a restaurant and orders a biryani
The waiter asks: Kaunsi saab? Hyderabadi ya Telangaani??

Song dedicated to Hyderabad !!!


This song when you watch the movie clearly looks like a last minute addition just like Khai key paan banaraswala !!
both became so popular !!!

They should have frozen number of states at time of independence. If you have significant political currency in a region, and there would be clamor for separate state by local satraps.

What is the use ? The sentiments are too strong. In India, it is very easy to ignite passions in the name of language, religion, caste etc. There are slight differences which are made into mountains by the politicians. Common people of both the regions mingle freely, marry and dont mind settling in Medak or Vizag. It will be like Haryana and Punjab. Are they not living peacefully after separation?

the asli test for KRS is the tackling of very strong naxal presence in telengana area. Andhra should heave a sigh of relief for the surgical separation.

Its KCR. and also his nose is too prominent. Reminds me of that fairytale character.

Sanju–r u pro or anti this new state?
Not aware of any details of this but imo this is a negative development for a 'diverse' country like india …
People can't be given a free-for-all–sometimes 'too much democracy' can be a bigger problem …

My reading is that this can/will encourage others to follow suit and demand separate state/nationhood…..

first I was against it and gradually I realised separation is the better option for the people of Hyderabad who have to face sudden bands, violence, disruption of studies, uncertainty etc. I have relatives in Hyderabad and Secunderabad and they certainly had very bad experiences!

Sanju-Nation states & their boundaries are not changed as per personal 'conveniences' & 'uncertainities' …
This will open a Pandora's box –human beings need to be kept under a 'leash' lol
Ps: check out PC in 'Mumbai ka hero'—thinking bout a spoof maybe–unsure who can carry it off for PC lol

Telengana issue was there even 50 years back. Hundreds of people sacrificed their lives for telengana, especially students. The telenganites hatred for andhraites is seen to be believed. Sometimes pragmatism is required to solve such problems, not idealism. In front of us Soviet Union broke up. Irish problem became so violent. Northeastern states were formed. Kashmir problem is still there. The world will always be in turmoil and new realities have to be accepted sometimes. Not only for me and my family members, it was a problem for every second hyderabadi. No one will grant statehood if a single family suffers!

While it has become fashionable to be anti-federalism, the reality is that it has, is and will always work as a model for a country such as India. The idea of a 'unified' one-nation is too Nazi a concept for a multicultural country such as ours, and its plurality can be protected only with federal states. The reality is not what is perceived in the homes of us pseudo-intellectuals in urban cities. There is ample evidence to show how Jharkhand and Bihar have equally benefitted from the division of that state. For the longest time, Vidarbha has been neglected and I have advocated its own governance. Had it not been for the likes of Sardar Patel and Annadurai, we would've been a nation of linguistic minorities subject to a Hindi overlord. It is another matter that what wasn't achieved constitutionally, is now being done obliquely democratically under the guise of educational 'reforms'.

At the same time, it is true that these exercises can often end up being manipulated, and often are, for petty political gains. To that, idealistic as it may be, monitoring is essential. Throwing the baby out with the bathwater, not.