Pooja Hegde opposite Hrithik in Gowariker's Mohenjodaro (older post updated)
LINK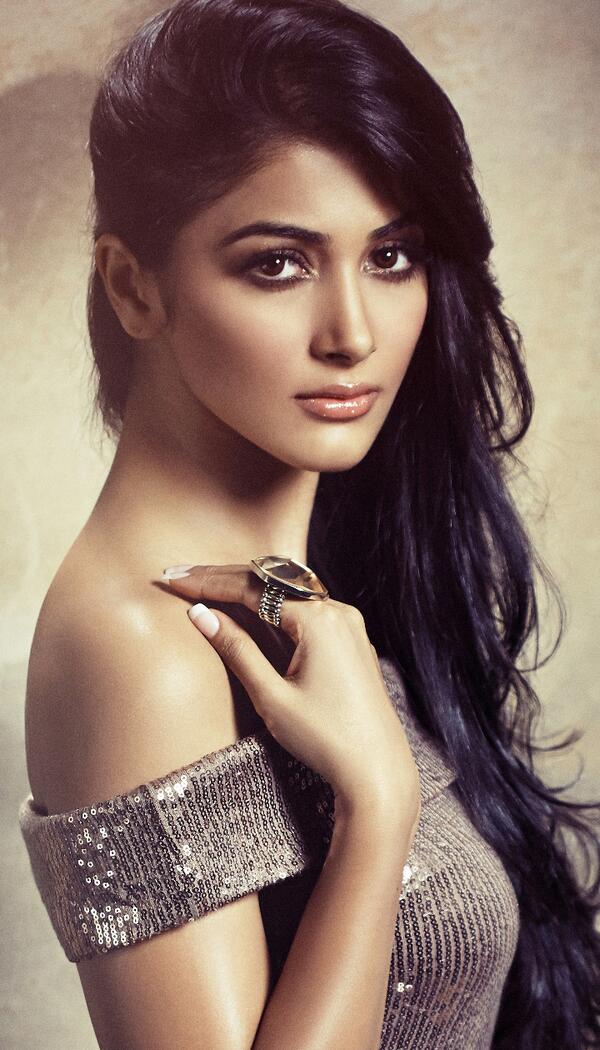 "I'm extremely happy to have found Pooja Hegde. She is very natural as an actress and has an elegance and poise that will make the character attractive and endearing. Both these strengths with a degree of freshness adds the required spark to the 'Mohenjo Daro' love story," Gowariker said in a statement Saturday.

Standing tall at 5 ft 9 inches, Pooja was adjudged the second runner up in the Miss Universe India 2010. She has done her share of acting down south with Tamil action-drama "Mugamoodi". "Mohenjo Daro" will mark her entry into Hindi cinema. In the past, Gowariker has successfully launched new faces like Gracy Singh in "Lagaan" and Gayatri Joshi in "Swades". The pre-production of "Mohenjo Daro" is on in full swing, and it is slated to go on floors in the last quarter of this year.
LINK


Ashutosh Gowarikar signed Hrithik Roshan for his latest period epic film titled as Mohanjodaro. Hrithik, who has been trapped in personal tragedies of various kinds recently, has a reason to smile now. Hrithik had lost the Karan Johar film Shuddhi earlier and it was reported that he is replaced by Ranveer Singh. Ashutosh and Hrithik share a great rapport and have done Jodha Akbar already.
But the last two films of Ashutosh were box office disasters. While What's Your Rashee literally bombed, Khelein Hum Jee Jaan Sey won critical accolades but failed in box office. Mohanjodaro will be a love story placed in a period backdrop. The sources close to the film says, "Hrithik is very happy nowadays. He has signed Ashutosh Gowarikar's film. Yes, the superstar will play the leading man of Ashu's next which is a period film." It is rumoured that Ashu is super thrilled to get Hrithik as his leading man. Ashu was trying to get Hrithik on board for his latest flick for quite some time. Hrithik couldn't allot him dates because of Bang Bang, Shuddhi and other committed films. As Hrithik now moved out of Shuddhi, due to health reasons, he now has enough dates for Ashutosh with him.
29 Responses to "Pooja Hegde opposite Hrithik in Gowariker's Mohenjodaro (older post updated)"
Gowariker not taking any chance with abhisekh.

LikeLike

…this does NOT seem a shrewd box office motivated decision–
Maybe personal rapport /equation with the persistent gowarikar!

But 'Meaningful, quality' stuff this…

After REJECTING shekhar kapoors paani,
kjos shuddhi,
excels time travel flick–seems hritik has given into gowarikars persistence!! Unsure if it's a tactfully sound decision imo.
It's more gowarikars gain though–but should be a worthwhile film

http://www.ibtimes.co.in/articles/547593/20140410/hrithik-mohenjo-daro-time-travel-film-ranbir.htm

After "Shuddhi", Hrithik Roshan is set to walk out of another big banner film produced by Excel Entertainments.

Roshan had recently replaced Aamir Khan in Excel's science fiction film, based on the theme of time travel. The actor had given his nod to the project and was expected to be paired opposite Deepika Padukone in the film.

However, it has now emerged that the 40-year-old will not be able to commit to the project owing to date clashes with Ashutosh Gowariker's period drama "Mohenjo-daro".

"Hrithik has already agreed to do Ashutosh Gowariker's period epic, 'Mohenjo-Daro'. The time when Ashutosh's film goes on floor clashes with Excel's time-travel drama. He can only choose one out of the two," Mumbai Mirror quoted a source.

Xxxxx

Actresses dying to be paired opposite Hritik in Gowarikar's next

There are speculations rife about an A-list actress being signed opposite Hrithik Roshan in Ashutosh Gowarikar's next film. The truth however, is Ashutosh has definitely thought about someone but has not yet signed her on the dotted line for the film tiled Mohenjodaro.

Meanwhile, a lot of A-list actresses have already started spreading rumours about their presence in the film. As per the sources, Gowarikar has denied the reports of any such development though; he has shared the name as of now under wraps with Hrithik Roshan.

The reigning superstar in fact, is very happy with the choice of Gowarikar, who gave him a blockbuster Jodha Akhbar where, he romanced Aishwarya Rai Bachchan.

It may be noted here, that Ashutosh has roped in music maestro A. R. Rahman. Thus, the trio Ashutosh, Rahman and Hrithik from Jodha Akhbar along with Disney UTV, is all set to storm the nation with nothing but the best.
Meanwhile, Hrithik too will finish the shoot of Bang Bang where he will be seem romancing Katrina Kaif.

http://daily.bhaskar.com/article/ENT-a-list-actresses-dying-to-be-paired-opposite-hrithik-roshan-in-mohenjodaro-4564616-NOR.html

The KEY news here is the international technical crew but more importantly

Welcome –the return of AR Rahman to hritik-gowarikar after Jodha Akbar ….

LikeLike

Apex: Hrithik doesn't have very many options — not because of any lack of box office prospects, but because he is simply, well, weird. He has so far proven somewhat incapable of dealing with his stardom, and has contributed his fair share to extending the longevity of the previous generation of major stars. A bit like Mahesh Babu: both don't seem quite ready to fill the space that was demarcated for them a long time ago. In Hritik's case, his on-screen adaptability is also limited by the fact that he must always look perfect (yes, even Guzaarish: too studied, too deliberate; as with everything Bhansali does, the work shows). Thus he fits well into (our imagining of) period pieces, but period pieces of a certain bloodless sort, where the past is imagined as if it were a fairy tale, and far removed from the dust and blood of today. And Gowariker's is thus, not surprisingly, a very 1950s-Hollywood way of imagining the past (think "Ben Hur"), but even there it suffers (because the epic sensibility of a "Ben Hur" is missing) — it works in Lagaan because that film was more fable, Asterix-the-Gaul, than "historical", but elsewhere (e.g. Khelen Hum Jee Jaan Se) the effect is utterly un-cinematic; even in the far more credible Jodha-Akbar, opportunities were missed, and we saw precious little of the couple at the center of a court maelstrom, and far too much of the court merely precious. Away from this terrain or that of Krrish-like absurdities, Hrithik increasingly seems out of place: in Agneepath he seemed to have wandered in off some billboard into a different world. Until and unless he is willing to get his hands dirty, and be willing to let go of some of those looks, it will be impossible for him to credibly enact roles (as opposed to merely representing lifestyles or collective aspirations about what movie stars should look like).

LikeLike

Q – I think lesser known aspect his some serious illnesses he has been dealing with since few years…….

LikeLike

Some genuine issues with Hritik have been that he could have done more work (& films) while he is still young & at his physical peak (though even there his recent physical ailments & the drug addict ex-wife dont help!)
He should get more assertive, 'manipulative' ( for the right reasons) wrt the media & some 'dodgy' players-some people know only one way!!

How many times have srk, Salman or aamir really changed their looks ?-other than putting on a moustache or other such cosmetic add-ons..
A mainstream commercial hero bearing the brunt of or eg 200 cr(wh)ore plus expectations ( currently) HAS to come across in a certain way there isn't much leg room unfortunately …
Yeah one can do indie /low budget stuff for that -not the 'pseudo-different' talaash ..

There are options in television, direct to DVD flicks , indie, 'small films' or being a 'just a star-son' etc

But
Being & surviving as a topline hero in a commercial setup is a big deal whether in Bollywood or Hollywood–there is a 'responsibility'–
Commercial Cinema is a VISUAL medium and one that demands the ringing of cash -simple…

There's something surprisingly sensible that the otherwise funnily brash Sonam and Anil kapoor said on Kjos show– (though those two went to the other extreme) there IS a problem for people accepting that those who look great can also act (& vice versa!)

As for the objection on " needing to change the way he looks" and the "gym body" these are mostly spurious dishonest arguments & mostly invented by apologists of some chronic underperformers…

LikeLike

Q: Completely OT, but I checked out Bhimayana (I remember you recommending this strongly on the blog). This is an absolutely fantastic work and the Gond artwork here is really 'kickass'- loved the way it sort of refuses to be confined into the traditional 'panel' structure, it really flows. Also liked the way the basic 'elements' of nature come into play- the way they have picturised say something like water drops/sources of water where a water drop is shown to become like Bheem…thought all of this was really well done. Also since I was shamefully unaware of this fact before I read (and I don't mean this in a throwaway sense, but Bhimayana, atleast for me was very educative, without ever trying to be didactic or whatever considering it was dealing with a very serious topic), there is a discussion on how Ambedkar (and his followers) publicly burn the copies of Manusmriti- this entire incident reminded me instantly of Ghulami where Dharmendra and the gang decide to set fire to the account books. I just get a feeling that Dutta was somewhere inspired by the Manusmriti burning incidence. Of course it also tells how great a film Ghulami was (and how criminally underappreciated it remains). And I also happened to attend a talk in by one of the co-authors of the novel, S. Anand (a month back in Delhi). This was fascinating stuff, he mentioned how Bhimayana has now entired the prescribed syllabus of English courses in a few Indian universities. He also spoke about how he asked the 2 Gond artists who did the artwork to do whatever they wanted and what they had never done before (he mentioned how these 2 artist had no knowledge of comic-book art considering they are almost illiterate and they had never a comic/graphic novel before) and that's the reason why their style doesn't really fit into traditional structures. Sadly, while taking the side of Dalits etc, Anand also indulged in a lot of unnecessary Gandhi-bashing (of the most predictable kind. I lose a lot of respect who try to insult Gandhi).

BTW since you are in Bombay, you have the option of checking out some pretty good Marathi films with subs in the theatres. For instance, have you seen Fandry? I found this a very strong film- it examines our caste-based social structure through an 'teenage' love story. Not sure if there is an Indian film similar to this.

LikeLike

Apex:

Sonakshi, Freida or Katrina opposite Hrithik Roshan?
AR Rahman reunites the team.

http://www.deccanchronicle.com/140325/entertainment-tollywood/article/sonakshi-freida-or-katrina-opposite-hrithik-roshan

Mumbai: Ever since Hrithik has agreed to be a part of Ashutosh Gowariker's next period drama based on Mohenjaro and Harappa, it has created a lot of buzz. While Katrina Kaif is already in talks with the director to star opposite Hrithik, it is realiably learnt that Sonakshi Sinha and Frieda Pinto too have shown interest to star in the film.

A few days ago, buzz was that Sonakshi Sinha and Freida Pinto had reached out to Ashutosh to work against Hrithik. While Katrina Kaif is already working with Hrithik in 'Bang Bang', if Sonakshi comes on board, it would be her first film with the actor.

If Freida is finalised, then it will be her big-ticket movie to Bollywood. Ashutosh now has a tough choice on who to choose among all these pretty ladies.

After 'Jodha Akhbar', A R Rahman has teamed up with Ashutosh again for this film. German cinematographer Karl Walter Lindenlaub has been signed to create the aura of the Indus Valley civilization. Hollywood stunt co-ordinator, Glenn Boswell, who has worked in films like 'Titanic', 'The Matrix' and 'The Hobbit' series, 'X-Men Origins: Wolverine' and 'Ghost Rider', is also part of this period drama.

LikeLike

Good find, Pooja Hegde is good looking.

LikeLike

Have you seen any other pictures of Pooja? This is a very unrepresentative photo (I do think she is pretty, but in a far less generic way than is portrayed here).

LikeLike

Yes, I did. She did 2-3 films down south already. She just looks very fresh. Grabbed this from google images.

LikeLike

She is very pretty. And while she didn't have much to do in Mugamoodi, she looked pleasant enough on screen.

The Tamil (Malayalam) actress who IMO is a terrific talent is Parvathi Menon. I first saw her in this little gem of a film called Poo last year and she was flat out great there. And she made an excellent pair with Dhanush in Maryan last year as well. I really want to see Bangalore Days as well. Parvathi isn't one of those traffic-stopper types, but she looked fantastic in Maryan-

LikeLike

Agree with you there. Parvathi is a really good actress- she's managed to do interesting things with some thoroughly run-of-the-mill roles. She hasn't really got her due IMO- even Maryaan didn't really do much for her, perhaps Bangalore Days will be the key.

LikeLike

check out around the 2.30 mark:

around 1 min mark here:

finally a song from the same:

LikeLike

Incidentally a song I am partial to..

LikeLike

Satyam: What did you think of Mugamoodi? I thought that while the end product was a complete mess, I thought it really tried to do something new with the reluctant-superhero genre (liked those little deft touches Mysskin gave to the film- the entire nod to Bruce Lee etc. Also liked some the action scenes here) while keeping the film very Tamil (though when Mysskin tries to fashion a 'Tamil vigilante' story out of the material, he completely messes it up). Incidentally I love the way Mysskin has staged this bar number (the sudden entry of that old man playing the violin, midway into the song, is hilarious).

LikeLike

I didn't mind the film to be honest. So with you there..

LikeLike

she is very pretty!

LikeLike

The 'Bhuvan' moment

There's a key moment in Lagaan wherein Bhuvan has to take the final call about accepting unfairness or going for the challenge. just like him, all of ashutosh films have the male protagonist in similar dilemmas. And like in JA, even WYR, he goes for the 'fair' (as in 'just'!)–it's the directors inherent conviction there.
Don't think Hritik was damn keen on this film but ashu gave 2+ years of his life just waiting for HR for this role, in a way now emotionally blackmailing him to do so.
He's got nothing less than Rahman on board to complete the team.
And he did this after barely surviving the abhishrek-KHJJS disaster (haven't seen it) is even more admirable..

For a role wherein the likes of katrina, Sonakshi even Freda actively lobbied (& perhaps auditioned), Ashu & HR take what seems 'right' for the film and subject!
It's not like getting the biggest star-actresses around rani& Kareena for talaash..even squeezing rani in MP. Why could only (a better styled) Kareena as a prostitute needed? Or a katrina in dhoom3?
The 20% or more jack in box office is a temptation not even aamir can resist.(perhaps rightly so!)

It's not easy to take a Gracie in Lagaan or a Gayatri in Swades. But one can trust his judgement in terms of earnestness to the subject & quality (if not box office)
Perhaps ashu & hritik have to learn such tricks from aamir.

THIS is the difference in HONESTY..
It's one thing to do these 'different' things in small films like TZP ..& revert to the 'TWIN CUSHIONS' of Rani-Kareena in Talaash (who incidentally looked better there than they usually do and are the best star/actresses in recent times imo)

And an entirely different thing to do it in the scales & budgets of mohenjodaro.
But as I say, it wasn't an 'accident' that Ashu hasn't made a substandard film yet and created a near perfect
Lagaan…

LikeLike

On a related note–haven't seen Pooja before..
Like her 'lips' already 🙂

LikeLike

Not sure if this is a right choice for actress.Unlike Salman or Akki, actors like Aamir or Hrithik usually needs stronger and more popular supporting cast, unless it is mainstream movie. Mohenjodaro certainly seems not…hence a popular actress, even a Vidya Balan would have been a better choice.

LikeLike

Hrithik Roshan refuses to take the plunge for Mohenjodaro !!

Jigar Shah, Hindustan Times, Mumbai| Updated: Apr 25, 2015 16:28 IST

Hrithik Roshan spotted at Mumbai airport. (Photo: Viral Bhayani)

http://www.hindustantimes.com/bollywood/hrithik-roshan-refuses-to-take-the-plunge-for-mohenjodaro/article1-1340939.aspx

In 2013, Hrithik Roshan had undergone a brain surgery to remove a clot that had formed due to a head injury that he had sustained during a shoot. This had let to multiple instances of the shooting of Bang Bang (2014) getting postponed, and as a result, the release was also delayed.

Ever since, the actor has been playing it safe, and ensuring that he doesn't hurt himself again. In the latest instance, he apparently refused to perform a stunt for his period film, Mohenjodaro, that is being shot in Bhuj, Gujarat.

A source close to Hrithik says, "A few days back, he was supposed to film a scene that required him to jump from one point to another, a few feet away. When he saw the distance, he told Ashutosh (Gowariker; director) that he would prefer not to do the scene. He felt the stunt could lead to him falling and may cause an injury. The director understood Hrithik's predicament, so he had the scene changed."

LikeLike