Sui Dhaaga, the rest of the box office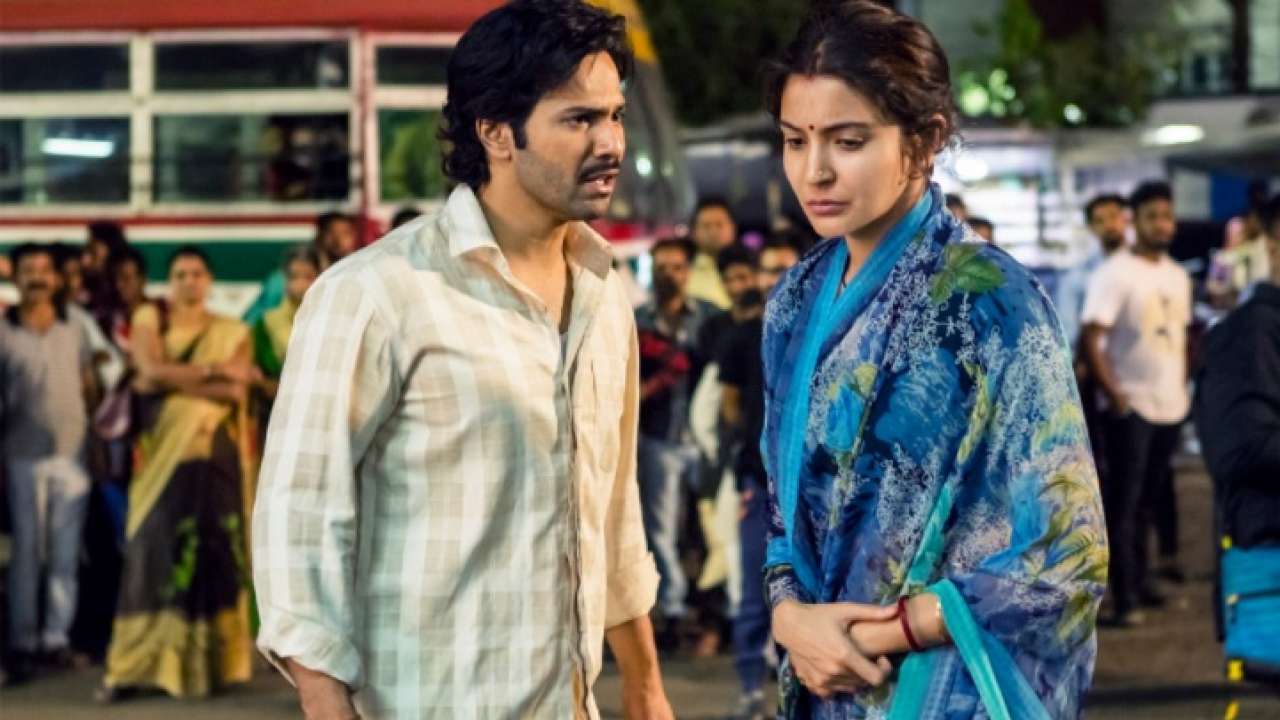 278 Responses to "Sui Dhaaga, the rest of the box office"
Were you pleasantly surprised with the reviews?
In all honesty and humility, I was in shock. I'm not used to this kind of response. I do believe that my films and performances in the past have garnered polarised opinions. It's important that an actor evokes an emotion; love my work or hate my work. For me, the way I look at it, both reactions help me learn and improve. Indifference is something actors can't handle; it destroys them. This is the first film for which I got a unanimously good response. So, I'm still processing it. It feels wonderful, but more than that, it's reassuring that I tried to do something and people got it.

Hmmm.. a lot of the male critics liked you?
(Smiles) I was secretly hoping that men would react to Robbie. Because the way he is written and handled, you know he is created for women to like him. He is understanding, gives them freedom and doesn't judge them. He's almost an idealistic character, he is as close to a knight in a shining armour that you will get in an Anurag Kashyap film. One of the challenges for me was that I wanted the men to like him. In today's day and age, when the bad boys are the cool guys and women are fond of them, you have to have an edge about you. Deep down inside, all human beings are nice people. I wanted to make them feel that good guys don't finish last. I was discussing with Anurag in Toronto that it's more important for me that men like this film. And I'm glad that happened. I didn't think we'd achieve it because it was a difficult one to crack.

https://www.dnaindia.com/bollywood/interview-i-d-like-to-work-with-anurag-kashyap-again-abhishek-bachchan-2668705

LikeLike

Venom's trailer was as B-grade as the Predator remake. But this is a good poster:

LikeLike

Not a character I ever liked…

LikeLike

Our tailor is the most happy person in the world! While the filthy rich walk around with grumpy faces!

LikeLike

He is not that poor. He has a 3 bhk in a highrise. Farmland back in UP, his home state. And an assistant under him.

LikeLike

Strangely no proper reviews for SD.

LikeLike

Sui dhaaga is a nice film..Lot of orginality can be experienced while watching this flick.

LikeLike

https://www.koimoi.com/bollywood-news/manto-nawazuddin-siddiqui-reveals-why-the-movie-didnt-work-at-the-box-office/

Nandita Das was very much disappointed by the film's morning screening being cancelled on the first day of the film's release in several cities like Delhi, Noida, Mumbai, Pune and Ahmedabad. It affected box-office business of the film to a larger extent.

Asked whether he is satisfied with the audience reaction to his film, he said, "I am really satisfied with audience response to Manto. The film travelled in world's biggest film festival so I will always be satisfied and happy with that fact.

"The film was not able to do well here as per our expectations because of the screening issue. Now after release of Manto, I realised that screening of a film determines whether it will be a hit or a flop. Our film had really bad distribution."

LikeLike

Nawaz should be ashamed of appearing in what appears to be a propaganda bio-pic on Thackeray, one that is written by a Shiv Sena MP! The whitewashing of one of the most toxic figures in Indian politics for decades, and one of the pioneers of the anti-national WEAKENING of the Indian state courtesy private militias (a trend that has really taken off, to the point where the hard-core nationalists are the ones with private militias running around weakening state smauthority) is simply outrageous.

LikeLike

Varun Dhawn is the best part of this film whereas, Anushka has overacted a bit in many scenes but still she is better than other new actresses.

LikeLike

New gmail. They are forcing me to go with it and the option to go back to classic has disappeared from the settings!

LikeLike

Except Stree none of the films worked recently at the bo.

LikeLike

the calm before the diwali hurricane

LikeLike

I recently saw Beyond the Clouds on Netflix. Work kept me away from cinema for a while so I had no idea that Majid Majidi made a Hindi film but I am so very glad he did! It was beautifully elegiac and utterly heart wrenching; I had to pause the movie at several points and return to it because I was overcome with emotion. All the usual Majidi trademarks were used to superb effect here (particularly the excellent, naturalistic child actors and the poignant juxtaposition of their innocence with the crucial ways of the world around them) but the movie faltered slightly when Majidi tries to reconcile his neorealist instincts with a more Bollywoodesque style of filmmaking. Ishan Katter surprised me very pleasantly with an excellent debut performance and I do hope that we see more of the charismatic Malavika Mohanan.

I have Masan, Bareilly Ki Barfi and Lust Stories in my queue next: any reviews on whether they are worth a watch?

Gul Panag, Vicky Kaushal – Uri teaser:

LikeLike

This looks to be a very good movie. India should expose Pakistani army, the largest terrorist gang in the world.

LikeLike

Not sure of authenticity of these numbers, but reflects the current state of theater viewing business …

LikeLike

After 2011's 'Dhobi Ghaat', Kiram Rao is apparently working on a film which could see her adorn the director's hat once again, BizAsiaLive.com can reveal.

"Kiran has always been inspired by content-driven stories, and the film that she is scripting is a human drama. It may go on floors in early 2019," said a source, according to Asian Age.

Rao has supported husband Aamir Khan's productions in recent years but to see her back as director will indeed by a treat for the audiences.

https://www.bizasialive.com/kiran-rao-turn-director-soon/

***********

Looks like it will be Mogul and a cameo in Kiran's next for Aamir in 2019. Osho and MB are on backburner now. SMJ season 3 also may not happen now as Water Cup will be expanding further in 2019.

LikeLike

given how many times, it has empasized Judwaa 2 TRP Ratings, I must agree

LikeLike

This film is receiving unanimous approval from all the critics.

LikeLike

Alita BA got postponed to Feb. This Christmas will suck bigtime with a bunch of wannabe films like this from hollywood and then there is zero.

If Shankar's outsourced vfx does not get delivered by oct 14, he will probably postpone 2.0 to Christmas as well. That will be fun.

Next christmas it will be star wars with mogul and dabangg 3.

LikeLike

Saket or anybody:

Can you tell me how you are able to maintain italics and hyper-links, etc when you paste a comment? I lose everything when I post anything except plain text. It's pretty ugly and I need to put link separately. Any italicization or emphasis is lost in the comment section. Do I need to upgrade wordpress or something? I am using the latest one I think..

LikeLike

I use the "i" tag for italics. Never knew you could use "em" as well.

LikeLike

Some great Bachchan images here, wish there were a proper slide show on these:

LikeLike

And in a hurry to declare BGMC and MM as flops!

LikeLike

It has gone from 8cr Friday to 16cr Sunday. Very good trending after a slow start. It is is near to a 37cr week end. So, things are looking good for it.

For BGMC and MM, unfortunately, they have not worked. Was really hoping than MM works for Abhishek's sake. But his performance has still been liked and he can build on it.

With BGMC, I could see it coming right after the first trailer. Not Shahid's fault by any means. But one could see that SD was the better movie of the two.

LikeLike

SD has done well, another success on the way. It's still got Tues holiday so is easily going past 50Cr in first week. BGMC didn't look good at all.

LikeLike

Definitely Village Rockstars will be european cinema for them!

LikeLike

I have heard good things said about this film.

LikeLike

Directed by Rohan Sippy.

LikeLike

I must add that it's not particularly good if the first episode is anything to go by.

LikeLike

Mogul going on floors by end of this year …

*****

Earlier this year, After Hrs reported that Aamir Khan was planning to make his most ambitious project, The Mahabharata, as a feature film. Although the superstar has maintained a stoic silence on the project, there have been several speculations since then. Recent reports claimed that the actor-filmmaker has given up on his plans to make the epic movie and is concentrating on another subject. Our source says that the news is partly true. "Aamir knows the amount of pressure and risks that will come attached with the film. He wants to make it after doing proper research. So he has asked his manager Advait Chandan (director of Secret Superstar) to do the ground work and only after that is complete, will he check if he has enough material to go ahead with the project. Meanwhile, he will reportedly be seen in the Gulshan Kumar biopic that will go on floors soon after Thugs Of Hindostan releases."

https://www.dnaindia.com/bollywood/report-aamir-khan-s-mahabharata-not-shelved-2669655

LikeLike

Why Bollywood will witness a 'clash of titans' this year end

Two upcoming big-budget Indian films are in the news.

One of them is Vijay Krishna Acharya's Thugs of Hindostan, an action-filled period drama that will hit the marquee on November 8. In Thugs…, Amitabh Bachchan and Aamir Khan have teamed up as co-stars for the first time ever. The film's main characters have been introduced to potential viewers with the use of innovative 'motion posters'.

Big on ambition

The official trailer that has gone viral was released recently. The film's budget is an estimated Rs 250 crore, making it the most expensive project of Yash Raj Films.

The second big film is director S Shankar's 2.0.

Starring Rajinikanth and Akshay Kumar, it is the 'spiritual successor' to Shankar's Enthiran (2010). The film's first teaser has grabbed eyeballs while generating mixed reactions. It has received so much attention that even Google India couldn't resist the idea of making an animated video showing the two main characters.

That doesn't happen every day.

Enthiran's making was a time-consuming affair. 2.0's story is rather similar. While work on VFX is a major reason for the delay, the film's final estimated budget is a mindboggling Rs 543 crore. Any cash-rich producer of Indian cinema will agree that it's a lot of money, even by the standards of the costliest films ever made.

2.0 will be released in Hindi, Tamil and Telugu, apart from 12 dubbed versions in other languages. The film is going to be the biggest test of Rajinikanth's commercial clout, his undisputed fan following notwithstanding.

Kumar's performance and box-office power will be also tested, especially since his presence as the bad guy challenging the good guy (Rajinikanth) is being seen as the onscreen clash of the year.

If the budget is big, one can dream big.

A few years ago, there were reports that the makers had ventured Hollywoodward to shop for the villain. Efforts to hire Arnold Schwarzenegger for a staggering fee of around Rs 100 crore were said to have been made.

The deal fell through, and the search continued. Aamir Khan and Kamaal Haasan were reportedly among those who had been approached. Finally, Kumar signed on the dotted line. While the actor's fee is a mystery, he wouldn't have settled for anything less than a very fat packet to play a negative role.

The challenges

2.0's budget had to be big, considering the stature of the stars who were being roped in. Realistically speaking, however, the film must please everybody who sees it in order to be a winner. Kumar's blink-and-miss presence in the first teaser led to complaints from his Twitter fans. There are reports that the second teaser will have more of him, clear indication that both Rajinikanth and he will make or break the film.

The actor's presence will be decisive in the Hindi belt where he has a significant following.

Among the challenges he and his senior co-star must contend with is dealing with the collective might of Bachchan and Khan, whose film will be three weeks old at the time of 2.0's release. If Thugs… does brilliantly, as Aamir Khan films frequently do, it might impact the initial business of 2.0. A small film that has remained hidden from the spotlight is Abhishek Kapoor's Kedarnath, which stars Sushant Singh Rajput and Sara Ali Khan.

Kedarnath, which will be released a day after 2.0, might be a sleeper hit if it is good enough. Indra Kumar's Total Dhamaal, the third film of the Dhamaal franchise, will be released one week later. The film may not be dramatically different from its predecessors, but it has a strong BO-friendly cast, led by Madhuri Dixit, Anil Kapoor and Ajay Devgn.

If the average first-day viewer finds it sufficiently enjoyable, Total Dhamaal might prove to be tricky for 2.0 at the Bollywood box-office.

Rajinikanth factor

Rajinikanth has a God-like stature in south India and not just Tamil cinema. In recent years, the South has delivered two spectacular mega-successes: SS Rajamouli's Baahubali: The Beginning and Bahubaali 2: The Conclusion. The first film cost Rs 180 crore to make and earned a reported Rs 650 crore.

The second one, which served as the sequel and prequel, was made with an estimated budget of Rs 250 crore and earned in the region of Rs 1,790 crore.

It might come as a surprise that no Rajinikanth film has done comparable business until today.

Enthiran had grossed around Rs 290 crore globally. Kabali, a 2016 socio-political film, was an impressive performer. But its earnings were disputed: anything between Rs 267 and Rs 477 crore. Kaala, his latest film, earned a modest Rs 160 crore.

2.0 must surpass these figures. That is possible, but only if the film delivers on all fronts and not just VFX.

https://www.dailyo.in/arts/back-to-back-release-of-thugs-2-0-kedarnath-total-dhamaal-why-bollywood-will-witness-a-clash-of-titans-this-year-end/story/1/26968.html

LikeLike

Kedarnath is already postponed. Total Dhamaal may get pushed back to 2019 if 2.0 makes it in time.

Anyways, I can bet that Thugs with half of 2.0's budget will do twice the worldwide gross of 2.0.

LikeLike

You have lost the bet by the time you ended your sentence. Quite an ensemble of hopes and jealousy.

LikeLike

Thugs Of Hindostan actress Fatima Sana Shaikh replaces Taapsee Pannu in Anurag Basu's next
ByBollywood Hungama News NetworkSep 29, 2018 – 5:33 pm IST

Not too long ago, we had reported that Anurag Basu is planning to take forward the franchise of Life In A Metro. Created in the form of anthology with over four stories connected with one another, the film dealt with the complex web of relationships set against the backdrop of an urban lifestyle. The sequel to this unconventional film was supposed to feature Rajkummar Rao along with Parineeti Chopra, Taapsee Pannu amongst others. The latest update on that front is that Taapsee has been replaced by Fatima Sana Shaikh.

The reason of replacement is said to be due to date issues. Apparently, Taapsee Pannu was facing date issues with her other work commitments which led to her exit. As a result of it, Fatima Sana Shaikh is expected to have come on board. Sources close to the development said, "Dates were a major conflict and that is the reason why Anurag Basu had to look out for different option for the lead. And lucky for him, he had already spoken to Fatima in the past. So, when dates did become an issue, it was an easy fix for him this time around."

The untitled film, however, is expected to follow a completely different plotline compared to Life In A Metro. But this film too is said to have an extensive cast with actors like Saif Ali Khan, Abhishek Bachchan, Sonakshi Sinha, Isshan Khattar in prominent roles. The yet to be titled film is supposed to go on floor by the end of the year.

http://www.bollywoodhungama.com/news/bollywood/thugs-hindostan-actress-fatima-sana-shaikh-replaces-taapsee-pannu-anurag-basus-next/

LikeLike

Many liked the racy storytelling and a fresh approach from MR.

LikeLike

Neither is it racy nor there's a fresh approach..

LikeLike

Ha! Some say he used stars to get that bo result.

LikeLike

I'm ok with that! He needs some breathing room too! of course it's not as if he's had outright hits even with stars in every case. Often he's saved by the initial in some of these cases. Let's see if this sustains more. I think it might.

LikeLike

Sanjana, fixed the problem with the comment.. my mistake..

LikeLike

Ajay Devgn hasn't watched Kajol's Dilwale Dulhaniya Le Jayenge yet, but he has an excuse
Kajol wants the media's help in asking husband Ajay Devgn why he still hasn't seen Dilwale Dulhaniya Le Jayenge.

https://www.hindustantimes.com/bollywood/ajay-devgn-hasn-t-watched-kajol-s-dilwale-dulhaniya-le-jayenge-yet-but-he-has-an-excuse/story-Bq4Dur56V4V2Bg8PoixW2M.html

Kajol has brought up the topic of Ajay having never seen the film many times, but he has refused to indulge her. "Yes! This is one film of mine which Ajay has not seen till date. I have asked Ajay the same question many a times, but he has not given me a satisfactory answer."

She added, "He told me, 'There is one reason but I shall not reveal it to you'. Why don't you guys put him in the spot during your next interaction with him and let me know the reason for him not watching DDLJ till date?"

LikeLike

Sui Dhaaga – Made In India Does Very Well On Sunday
Monday 01 October 2018 00.30 IST
Box Office India Trade Network

Sui Dhaaga – Made In India has done very well on Sunday with collections of 16 crore nett apprx. The Sunday number is a big collection for the film of this size and the weekend will be a solid36.50 crore nett apprx with strong trending on Saturday and Sunday.

The film has gone from around the 8 crore nett mark on Friday to 16 crore nett on Sunday so basically the Sunday is double of Friday and there are not many films which would have done that from the opening level of Sui Dhaaga. It can often happen with films opening under 5 crore nett as with a lower the start there becomes higher potential for growth.

There is a big national holiday on Tuesday which will give the film a boost but a strong hold on Monday is crucial if the film wants that really big jump on Tuesday.

The film is making up some ground from the match on Friday which may have give a little extra growth but even allowing for that it is good growth and a solid second day number.

LikeLike

"This award holds a very special value. It is deserved by Shoojit Sircar, Juhi Chaturvedi and the team. When I had started the film 'October', I had no idea what I was doing or was going to do. It is a very special film for me and I can't express it in words. I think 'October' will live on among the audience's mind for a long time," he said.

He is also happy with the response to "Sui Dhaaga – Made In India", which is drawing a positive reaction from cine-goers.

"The success of 'Sui Dhaaga' is a very big deal for me. I think this is mine, Anushka's and the entire team's hit. When you do a film like 'Sui Dhaaga', you hope for people to like it and also for it to make money at the box office. So, this mix of commerce and arts that is happening with the 'Sui Dhaaga' success is very special for me."

koimoi

LikeLike

This is as good as the Ganpat one …

LikeLike

yes this one is better – although i m not a fan of KR as wrote earlier and avoid all her films…..

LikeLike

Like it or dislike. you gotta admire her guts. leaving patriachy/home, security at early age. rebeling, finding your way. learning along the way. hard lessons. learning to talk in english. and her interviews in english now where she expresses herself so eloquently and intelligently. standing up to abuse. to power. to bw biggies. to bullies. If she were your daughter, sister, mother, you would have cheered for her. Plus she is indeed talented. she was fashionista before likes of sonum. She has no sugar daddy and is not nepo-kid. So you gotta give it to her! In that way I admire Rakhi Sawant too!

Ha! You are an ideological nutcase and a blabbering idiot … ;-P

LikeLike

Marcus…of course. She called you raja beta. So you will call them idiots. chalta hai. Sab dikta hai bheedu!

LikeLike

Raja beta ka trailer nehi aaya … papa se mathematics sikh raha hai, with guzaarish look!

LikeLike

Swati, "If she were your daughter, sister, mother, you would have cheered for her. " – I think you are mixing up two things here: as a person what she has gone through and as an actor. I can respect for what she has gone through but that does not make it mandatory for any one to like her!! I am purely talking about her acting – and I have a right to dislike her. Do not drag what she has personally gone through etc. SRK had a very humble background and his mom passed away before the release of his first film, they had a small shop after his father passed away…etc…etc….I respect SRK for all these hardhips – but that does not make me like him as an actor!!! pl. be gentle in what u write here? u sound offended for no reasons……chill!

LikeLike

I like Trump too to be gender neutral. Trump is also a self made man and he entertains a lot making interesting statements.

LikeLike

Trump is a self-made man?????????????????????

LikeLike

aamirsaurabh – both are extreme versions and far from truth – he did have many setbacks in his life and actually – evenif we do not talk about material aspect, loss of parents at an early age can be biggest setback to any one – also his sister is suffering from mental illnesses….""My greatest 'Hichki moment' is the death of my parents. I was 15 when my father passed away and 26 when my mother passed away. It was very sad for us. The empty house without my parents used to come to bite us (my sister and me). The loneliness, pain and sadness of the loss of both my parents, could have been overwhelming enough to take over my life wholly. I decided to overcome this Hichki moment by letting acting fill up my entire life," https://www.hindustantimes.com/bollywood/the-loss-of-my-parents-could-have-taken-over-my-life-shah-rukh-khan-reveals-his-life-s-hichki-to-rani-mukerji/story-49ictNPtI8tVCbzAgWYAzN.html

SRK studied with Tom Alter's acting institute in Noida and had through come through TV route….one has to admire this….but as an individual audience, I am no fan of his acting skills. So the choce is individual but I keep two sides apart….as an individual and as an actor….

LikeLike

Tigress Kangana rocks.

LikeLike

Kitna bhi koshish kar loKangana yeh picture koi nahi jayega dekhne

LikeLike

Krishna Raj Kapoor
Om Shani

LikeLike

young Krishna Rajkapoor looked very much like Karishma.

LikeLike

Sui Dhaaga Set To Emerge A HIT Film
Monday 01 October 2018 11.30 IST
Box Office India Trade Network

Sui Dhaaga – Made In India is set to emerge a HIT film as it collects 6.75-7 crore nett as per early estimates on Monday which has taken the total of the film to 43.25 crore nett. The drop is just 15-20% from the first day which is excellent trending and its not as if the film had opened very low on Friday, it was still a decent 8 crore nett plus so to drop just 15-20% from there is very good.

The evenings would have got a boost at metro multiplexes as its a holiday tomorrow but even allowing for that its a very strong hold. there is the big holiday to come on Tuesday which will further boost collections. But the main thing is that the Monday number confirms that the film will have some sort of sustaining run over the next few weeks and that is most important.

The first week business will be determined by the collections on Tuesday and Wednesday. Its hard to tell where the film will go on the national holiday and then there will be the drop on Wednesday post the big holiday.

LikeLike

SD has done well. Looks like at least 80 Cr here total.

LikeLike

I think this will get to 120 crs….The feedback is really good…and the Dussehra holidays kick in next week….

LikeLike

Yes Krish my estimate is vastly low.

It's already at 44 Cr and week 1 will probably be 65 Cr itself. So 100 Cr minimum with 2nd week targeting 25 Cr or so.

Given the genre it's done really well. Varun is consistent in 💯 bracket. He doesn't have a flop to his name but I really don't like him much.

LikeLike

Bachchan on the subject of Krishna Raj Kapoor's funeral:

"Insisted that when she goes she wants to have the prayers conducted by the 4 faiths : Sikh Gurubani, Hindu Pandit schloks, Priest Christian from the Bible, and words from the Quran .."

my response:

"Reflecting on her demise I am again reminded of how Raj Kapoor passed away far too early… on her wishes to have the prayers done that way.. both her husband and her husband's one time disciple (one of his two most illustrious ones), must be smiling somewhere…"

Waiting for the trailer. Again there will be angrez and how they will be depicted.

LikeLike

I just want popcorn entertainment. Some of my wait-list movies for next year are Captain Marvel, Alita, Dark Phoenix, Wonder Woman 2 and star Wars IX. Just want an exciting trailer for Manikarnika to join this list …

LikeLike

Must add that imdb says that production designers for Manikarnika are the BM guys, thats good news imo.

LikeLike

Watched Sui Dhaaga over the weekend.

More than anything, I'd like to narrate my experience of watching it in jaipur, in one of the most famous and largest theatres of the world — Rajmahal. Was not interested in watching the film. But since I am travelling to the Pink city, decided to watch the film.

The film itself is cute, very predictable with unidimensional characters but the very good performances and some genuinely nice dialogues and moments make it a worthwhile one-time watch. However, what made the experience truly enriching and rewarding was the reaction of the audience. The response was electrifying. They were clapping and hooting at every inportant scene and moment. And the theatre was full even though thecapcity is 1200!

Love the ambience of the place. Its very palace- like and changed colours from green to red to blue and crimson. It was a beautiful sight. If anyone's visiting Jaipur, i suggest they watch the movie at this place. It is one of the highlights of the city and has a great crowd.

Dude, unless you are from rajasthan, tourists will always have better stuff to do than watch movies while in jaipur!

LikeLike

@Tony it is Rajmandir….

@Marcus – Rajmandir still remains one of those "better stuffs" even if one is from Rajasthan….i never miss out on visiting it whenever i go to Jaipur. Lovely place.

LikeLike

@Idea – Are you from Jaipur? I am planning a 4D/3N trip to raajasthan in winter, any recommendations on the itenary?

LikeLike

My bad.. rajmandir it is

LikeLike

I dont think watching a movie in a theater which is a city highlight is akin to wasting time. Im not from Jaipur, I'm a pakka Delhiite. But as a cinema fan, I've always wanted to watch a film in this theater. And to give some perspective, a decent percentage of the audience were foreigners!

LikeLike

Not bad, but parts of it are unintentionally funny.

[Post Created]

LikeLike

Kanagans's shrill voice is a downer, but looks pretty grand given that budget is 1/3rd of ToH's and 1/7th of 2.0's …

LikeLike

I had it on mute & found it funny. She's in every shot for a start and killing in most scenes!

LikeLike

Battle lines drawn at BO for next 3 months:

Nov: ToH vs 2.0
Dec: Zero vs Simmba
Jan: Manikarnika vs Super 30

Let the games begin! Full support for ToH, Simmba and Manikarnika. Should be easy winners unless others run away from fear …

Trailer/Teaser ratings:

ToH – 4/5
Manikarnika – 3/5
2.0 – 2/5
Zero – 0/5

Must say that the last two ratings are living up to their respective titles!

wt….ha ha…..hilarious….anyway, this will still sail thru at the BO – courtesy Zhansi Ki Rani is such an icon that uske naam pe KR will sail thru…..still wud have preferred DP here…..Kangana does not know subtlety of acting and one can act thru eyes…..we had BB2 actresses (both of them were so lovely thru eyes…..) – Big B landing voice and BB writers name in credits will def. add to BO collections….i am going to skip this though….

Stree Competes With Biggies In Week Four
Tuesday 02 October 2018 12.30 IST
Box Office India Trade Network

Stree competed with the big films in its fourth week as it recorded the tenth highest fourth week of all time. the film collected over 9 crore nett and is in the list where there all the big films of the past ten years or so. Most of the films are the big grossers. Also six of the films are Xmas releases where there is prolonged period when there is no competition.

This is the biggest achievement for Stree in its run to be competing with these big films. The collections in week four were the best of the year in places like Rajasthan and Gujarat because Padmaavat did not release in these places and it had better collections than Sanju. Bahubali – The Conclusion stands apart in week four with almost double the collections of the second best film is which is 3 idiots.

The highest fourth week collections of all time are as follows.

1. Bahubali – The Conclusion – 29,11,00,000

2. 3 idiots – 15,95,00,000

3. Dangal – 14,69,00,000

4. Padmaavat – 13,55,00,000

5. PK – 12,72,00,000

6. Tiger Zinda Hai – 10,87,00,000

7. Bajrangi Bhaijaan – 10,65,00,000

8. Bajirao Mastani – 9,43,00,000

9. Sanju – 9,40,00,000

10. Stree – 9,31,00,000

LikeLike

Remarkable collections for Shree!

LikeLike

Order given to capture man-eating Yavatmal tigress, cubs
In November last year, the forest department had issued an order to capture the tigress following "confirmation of her involvement in at least three human kills till then".

LikeLike

Leave the big cats alone and they won't go after you!

LikeLike

Just generally for wildlife and wild animals in particular. Let them be in their own habitats. I'm all for Safari's to watch them but once you enter their habitats don't blame them for their actions. No one jumps into shark infested oceans! So why go walking into jungles or forests not knowing the consequences! I've seen some nasty videos of lions going after a human in its own cage. My observation is – you've already caged the animal and you want to go into the cage too!

I guess that applies to the fiesty Kangana! Let her be. She's clearly crazy in some ways but also very courageous in other ways.

The tigers dont know that they have to live within protected areas. They stray and seek to explore. Just like humans. Thus human animal conflict takes place. The villagers also afraid of sending their kids to school. And they move in groups. When tiger population increases they also need lots of territories. The villagers are truly brave and very patient so far.

LikeLike

True they are not human intelligent. Their instinct is to kill. We are intelligent beings capable of ensuring they are kept in a place they can live & survive without harming humans. The onus is on humans to keep endangered species alive. They are not that intelligent. Not just tigers, rhinos, elephants whatever.

It's why I'm saying leave them to their own habitat like a jungle, forest or the wild nature reserves. Enclose it to some degree such that human life is not endangered. I think you can't blame a tiger searching for its next meal. They are hungry and if humans are there then good luck!

Well, human kills animal for sport/fun too.

LikeLike

Ganapati celebrations in Uganda…

LikeLike

Welcome back Salim!! If I'm not mistaken, it's been a while since your last appearance. Cast your vote in SRK's favourite movie thread & also share your movie watching history in your own thread.

LikeLike

Sui Dhaaga – Made In India collected a huge 11.50 crore nett on Tuesday as it got the boost of a national holiday for Gandhi Jayanti. The collections will be among the top Tuesday numbers of all time and although the numbers have come due to the holiday the film is also not that big commercial extravaganza which most other films are which collected heavily on Tuesday.

The film has so far collected 55 crore nett apprx in five days which is very good for this time and Wednesday will tell where the week is going. The film needs normal trending from here on and that will ensure HIT status. There are a couple of films releasing this week on Friday which will take away some screen unless of course its a big hold tomorrow then Sui Dhaaga will turn out to be road blocker for the new releases.

boi.

LikeLike

Nana Patekar's friends are caught in a catch 22 situation
BySubhash K. JhaOct 3, 2018 – 10:42 am IST
No-win-no-lose is the situation Nana Patekar's friends in the film industry find themselves in. They are damned if they speak up against him and damned if they don't. It is being said in various corners of the film industry that Nana Patekar has been reaching out for support. Now, his friends who range from Anil Kapoor and John Abraham to N Chandra and Udhav Thackeray don't know whether to avoid his calls or speak to him and extend their support.

Says a well-informed source, "The industry is sharply polarized. One section feels Nana must be named and shamed. Another feels he's not bad-hearted, just hot-tempered. For that, he can't be sent to jail."

In the meanwhile, Nana has decided to tell his side of the story at a press conference where at least some of his powerful friends will speak up in his favour. While John Abraham, Mehul Kumar and N Chandra may defend Nana, Amitabh Bachchan and others from his ilk know nothing about what should be done to him.

http://www.bollywoodhungama.com/news/bollywood/nana-patekars-friends-caught-catch-22-situation/

LikeLike

is there any stopping Stree? its still collecting in crores on a single day! the trending reminds me of Vivah in 2006

LikeLike

It's quite remarkable that a film trends this way nowadays. It seems only small or medium budget films can do this, the big films just are too front loaded unless you're a BB2.

I don't know the budget here but 130Cr+ is something, the makers must be thrilled.

Badhai Ho looks like the next winner after Sui Dhaaga. I've lost count of the successes this year.

LikeLike

It might cross Akki's highest at this rate.

LikeLike

OFFTOPIC-As per BOI Dangal had 496cr hindi gross and BB2 708cr while Footfalls are 3.69cr and 5.25cr.

Gross ratio-1.427 while FF ratio-1.422

which means BOI is saying ATP for Baahubali and Dangal was same.Gimme break.They r the biggest crap of all time.

LikeLike

When boi does not report sui dhaga numbers in the middle of night or early morning we can safely assume that the numbers are not that great yesterday.

LikeLike

Those guyz might be working for a change!

LikeLike

… with Senas galore to vet the script. By the time a film makes it through this process, it's often a snooze-fest. And then me there is the question of Devgan: the guy just isn't associated with any interesting films (I mean that he produces/makes).

LikeLike

Barfi was not a one off fluke. There was znmd the year before that & there have been the likes of Airlift since. And this is not counting movies with low face value made on limited expense like Pink, Neerja & K&Sons (all of which are excellent films imo). Wonder why the so called mass cinema like Race 3, Jai Ho & Dilwale fell flat!

LikeLike

They are afraid to acknowledge excellency because there agenda is something else. Even Sui dhaga is also like hichki and sort of non masala. But suddenly Varun Dhawan has become their pet and eventually they will blame Sui dhaga not making mandatory 100 crores plus and save VD!

LikeLike

One can give due to both bo success and interesting small films not making it. The latter deserves some encouragement for the sake of good cinema.

LikeLike

One thing you have to give to BOI. They know how to reply in the same language. 😀

LikeLike

Yes off course, since they are the saviors of Rickshawallah-Tangewallah category.
Their pieces on 'European Cinema' (if every there were a genre such as that!) are so full of self embellished obfuscated nonsense!. Wonder who/what their target readership is, that can actually read through this BS with a straight face.
Calling DCH a flop due to its 'european' leanings is the absolute height of their unhinged loonyism. Its one of the biggest cult movies of bwood today. Go talk to anyone who ever went to college, and they will point at DCH to be their inspirational male-bonding movie, the first of its kind. ZNMD etc just followed up on DCH.
But one cant expect BOI to understand this, cause they are off course representative of sadak-chaap cinema shrouded under a 'Mass' Genre. "Educated Audience Choices" as a phrase simply escapes their puny little minds.

I guess if BOI's yardstick is applied to Hollywood we might declare Schindler's List & Memento as duds while Toy Story, Marvel's Avengers and Fate of Furious would be called classics.

LikeLike

Replying to whom? Kindly elaborate. I do not remember any of the critics (including the clown) ever criticize BOI for their methodology or verdicts. If at all anything, most of the critics have in fact given Average to Above Average ratings to even substandard films like Ghajini, Dhoom 3, Sultan, Agneepath and Don 2. I can understand the over rated status of some mediocre film makers like Vishal Bharadwaj and Anurag Kashyap but criticizing well accepted and appreciated cult films like Satya, DCH, Jaane Bhi Do Yaaron, Parinda, Barfi, ZNMD, Airlift, Queen, Neerja etc is completely unnecessary and unwarranted. I guess by their yardstick they might even go on to call Hrishikesh Mukherjee as a poor film maker and Satyajit Ray as rank bad!

LikeLike

Ghajini Above Average??

LikeLike

It has aamir in it. So it has to be below average. To balance Sultan is brought in.

LikeLike

Sultan se yaad aaya Livewire kaha hai?Race ko guzre hue to kuch time ho gaya hai.

LikeLike

Personally for me Ghajini is a lousy, violent and loud B Grade masala entertainer that gives nothing else but headaches.

LikeLike

More shocking than headache inducing. But again, this forum is full of fan kids to an extent who even brand Ghajini more watchable than Memento and Talaash as a classic. So really, no real surprises as such. I'm sure 90% of the member would rate Mangal Pandey > Mughal E Azam.

LikeLike

Confirmed: 'Zero' trailer to release on Shah Rukh Khan's birthday, 2nd November

LikeLike

The year is turning out to be huge for Bollywood with several hits and big budget movies. The start of 2018 saw the release of Sanjay Leela Bhansali's magnum opus Padmaavat, made at a budget of approximately 215 crores, followed by Salman Khan Starrer Race 3 which was made with a budget of 150 crores. With still one quarter remaining, biggies like Thugs Of Hindostan (200-250 crores), 2.0 (540-550 crores) are yet to release. Now as per the reports, Shah Rukh Khan's Zero is the latest addition to list.

Reports suggest that Zero is the most expensive project for SRK with an estimated budget of 200 crores. Huge star cast, extensive shooting schedules and VFX requirements sums up the total.

https://www.koimoi.com/box-office/zero-budget-reveal-most-expensive-film-for-shah-rukh-khan-a-big-budget-extravaganza/

LikeLike

Seriously the number of 2018 successes is huge! and films with diverse genres have scored..

SRK's Zero might be the stumbling block in the law of averages though

LikeLike

LOLLLL on crap written by BOI.Harminder is a mad man writing all this nonsense.

LikeLike

My god! Just listen KRK's Andhadhun review. Not a single minus point. I think this is the first time he said only positive thing about a film.


LikeLike

So BOI's rant about european cinema and bollywoodhungama's rant about Vishal Bharadwaj, Imtiaz Ali and Anurag Kashyap are published on the same day. Dil Chahta Hai was a hit. Maybe not a superhit but movie was profitable enough for the makers.

BOI's propaganda is becoming dangerous. Journalists and writers are using them as some kind of authentic source. Today's bollywoodhungama's article doesn't mention Omkara when talking about Vishal Bharadwaj's financially successful films (only Kaminey and Haider get a mention). Perhaps the writer turned to BOI and saw Omkara listed as a flop. But the film was a commission earner.

This is why I feel BOI is dangerous because their misinformation is reshaping narratives and gives a false overview of some people's careers.