An Jo on Pataakha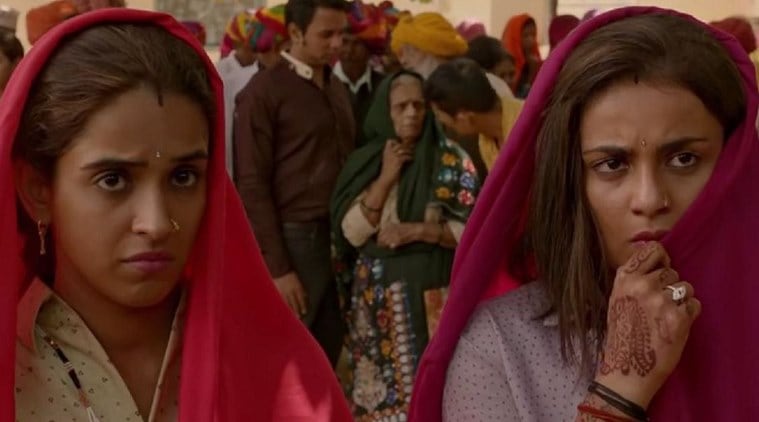 Spoiler Alert
In recent years, I have hardly seen any movie—metaphorically I mean—live up to its title: And PATAAKHA is one such wonderfully rambunctious movie that more than lives up to the title; in letter, and more so, in spirit. Dickens has to his name the ever-lasting A TALE OF TWO CITIES: Bharadwaj now has A TALE OF TWO SISTERS.
Vishal adapts Charan Singh Pathak's DO BEHENEIN and gloriously burns the screen with a rousing parable: A simple but powerful story of two perennially fighting sisters, Badki and Chutki, that are bound for life with familial stream of blood. These are sisters that are unkempt, dusty, grungy, and abuse through their stained and damaged teeth at the drop of—well—anything?! They are, of course, still sought after by the village's men. Financially, of course, they appear to be dependent on their father – a fantastic performance from Vijay Raaz that conveys the unavoidable balance of love and hair-splitting frustration of any single parent having to deal with two, well, 'pataakhas.' But it is the ladies who call the shots when it comes to men in their life: a) They decide who to court, when to court, why to court. B) They decide when to fight, and when to relent and be loving to them. One wants to own a dairy; one wants to be a teacher. One abhors going to school while the other loves it. It is their explosive and impulsive traits that keep them bound. By a twist of fate, they are forced to be in each other's proximity even after marriage, and the film then tracks their attempts at coming to peace—(war??)—with themselves and their fates that are entwined together, forever.
Vishal garnishes PATAAKHA with colorful characters bathed in local Rajasthani flavors amidst the hot and arid environs of rural Rajasthan. It's a natural, colorful feast displaying modes of travel, the farms, shops, houses, 'panchayat sabhas', and village fairs. There is no outside interference in the proceedings. The 'outside' is only conveyed through words. One sister's husband is stationed in Kashmir and the father once goes to Delhi to seek financial help. That's all one needs to know, and that's all that suffices. All the characters mouth local dialect and hence, proper sub-titles are a must for this movie in order to wholly appreciate the movie. We have seen Hindi films where, mostly, the hinterland and its denizens are used to elicit laughter and/or guffaws from the 'elite': not so here. Even when there're 'spattering' of English, it elicits a laughter from the audience due to context and not any sense of 'them' trying to be 'us.' Folk-lore is finely used in songs here; Chutki sings a stanza that involves a 'balma' roaming around naked when she is playfully pinned down by her future lover, and then plays/sings the song in its entirety during her sister's 'sangeet' ceremony embodying a playful comparison between her lover and Badki's would-be husband. Vishal doesn't explode the witticisms through dialogues in your face. It takes time for the audience to get adjusted to the subtle one-liners and retorts: Hence the cleverly titled 'Pataakha' which is really an oxy-moron.
There are fine symbolisms here. The two sisters might represent Israel and Palestine, South Korea and North Korea, but they surely do represent India and Pakistan! There is reference to 'batwaara' that is not possible till America – the grand-mother— is omni-present and hovering around with tremendous influence on the husbands. Badki and Chutki's kids watch in horror and embarrassment as their mothers take up cudgels and fight in the courtyard with their fathers painfully trying to stop them, while neighbors gather around to watch the fight. This is India and Pakistan's numerous border-shootings while ordinary Indians and Pakistanis consume these through daily 'news.' Vishal again doffs his hat to Shakespeare, by making Sunil Grover play a roguish mixture of Iago and Puck. At one point, Vijay Raaz refers to him as the 'Narad muni.' Sunil Grover is truly delightful as the narrator and the enabler of discord/fights between the two sisters. The skirmishes between India and Pakistan are symbolized by Badki pouring water onto the other's TV set while Chutki smashes Badki's 'Samrat' phone. Vijay Raaz represents the United Nations – well, not that the United Nations or the United States cares about peace between India and Pakistan – who is forever apprehensive and trying to forge peace between the warring sisters. There is a hilariously staged scene where the villagers gather around to watch the TV being repaired symbolically indicating the worthless time spent over numerous 'The-Nation-Wants-To Know' debates. There's a scene where Badki steals Chutki's clothes but doesn't forget to cover her with a blanket when she's sleeping. In the penultimate scene, the two sisters shout at each other and blurt out the idiosyncratic ways of their love masked in hatred: Hate they do each other, but it comes with a pinch of love.
Apart from Vijay Raaz's fantastic outing, the film boasts of two lovely performances from Sanya Malhotra's Chutki and Radhika Madan's Badki. While Sanya's is a more physically embellished performance, Radhika's is an emotively explosive performance. The two husbands are wonderfully reticent and pull themselves into the background laying the stage open for the warring ladies.
Vishal pulls out the final Trump – pun intended— card when he constructs scenes embodying the 'can't live with them, but also without them' conundrum. Badki loses her voice [hysterical euphonia], while Chutki loses her eye-sight [hysterical blindness.] Badki can't bear to hear her sister's success in the English language department while Chutki can't bear to see her sister's success in the dairy department, thus implying the under-lying, ever-green pangs of jealousy between the two nations and its results. Both regain their aural and visual functioning once they retreat back into their fighting selves! In short, their peace lies in their fights.
After a cinema-viewing week that started with bitter disappointment over Ratnam's CCV, this was a delight to watch and reinforced my faith in Bharadwaj after his disastrous outing with the perennially over-rated Saif Ali Khan-starrer RANGOON.
9 Responses to "An Jo on Pataakha"