An Jo on Saand ki Aankh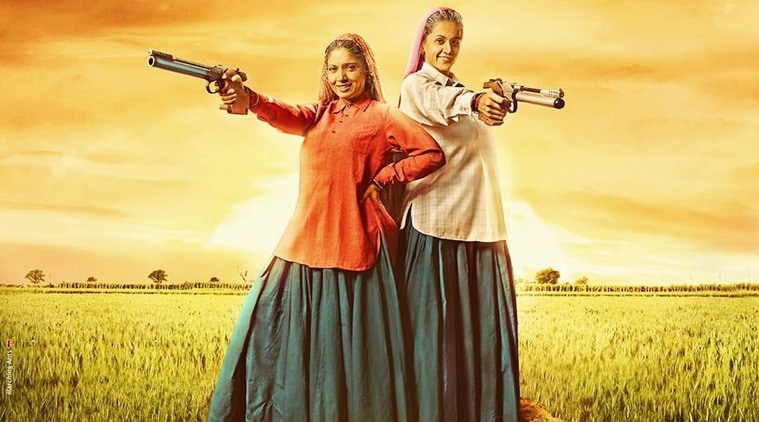 Mild spoilers ahead:
An interesting attempt for sure, but falls in-between the confusion of adopting masala or full-on  'realism', or even 'faux-realism.' There are many masala tropes used here; but one can see a confusion in embracing it full-on, the way Bahl embraced it during the first half of Super 30 to full glory. So, you have rousing back-ground scores, comic portrayals of serious issues like oppression, sex, family-planning, forced nas-bandi and patriarchy. Just like HR's calm and calculated, mathematical act in Super 30, here, in the face of oppression, and the fact that 3 couples have to share one bedroom — I meant in turns, not all-together—due to an absolute lack of privacy in a village sarpanch's home, the two protagonists know very well their standing in the social and familial hierarchy and handle it with signs of fate and geographically decreed acceptance and humor: The women-folk continue not to live but to exist serving the oafs/men-folk in the family who are only good at smoking hookah the whole day and having sex at night with no inclination of family-planning – took me back to the fantastic translation and expression of Raghubir Yadav in DIL SE where he translates the old-woman's commentary as 'घर के मर्द तो निकम्मे है; सिर्फ़ औरतें ही हैं जो कुछ काम करते है और संभाल रहे है' when SRK is on a mission to find Manisha's whereabouts with Raghubir in tow—and this is again enacted by Bhumi and Tapsee in the denouement. [The scene where the voice-over talks of how the house has around 100 members due to lack of family-planning brought a smile to my face thanks to the brilliant comic act of Rajpal Yadav in Priyadarshan's CHUP CHUP SE and that brilliant dialogue – आप इसे घर क्यों कहेते है, जिला क्यों नहीं!! The two women are remarkably spirited for the environment which they find themselves in, and the lines मे उड़ता तीतर जैल के भीतर encapsulate that spirit and camaraderie amongst the women quite well.

Director Tushar Hiranandani makes some fine visual symbolisms while he displays his lack of masala tropes in many scenes: Case in point; when the shooting range is inaugurated, the colors draping the building are in yellow and red, the ones worn by Tapsee and Pannu as veils that convey oppression [they watch Mother India in veils]. He displays his masala ineptitude when he literally has Vineet Singh say and the camera panders onto the fields: The winds are changing! There's a pants burning scene and there's a pants waving-in-their-face scene symbolizing male oppression: They are quite rich in visual imagery. And then there's the scene at the Royals' party scene in Jaipur, with the 'fock' scene and everyone drinking lemon-water. That's so cringe-worthy that even writing about it makes me cringe. Now, compare this with the scene in Super 30 where HR's Anand is invited to an item-song/dance/booze party: He just remains in the back-ground, yes, he gets drunk, but his 'essence' is retained. He wobbles out and tries to start his bike, but never, never do the film-makers/writers try to milk the scene by making HR lose control and take the easy way out. Now, that's called retaining the essence, whilst trying to stamp a general statement. And that's why, as mentioned in my review, the tunnel-scene hits like a carving a statue.
All biopics/sport stories are generic: The under-dog wins. And I understand it is tough for film-makers to carve out individualities out of such tales. And that's why, I have always felt, masala is the best way to tell these stories, because going back, these are the things told in our Puranas. At the top-most level, it's simply the oppressed vanquishing the oppressor, either physically or morally. At the ground-level, it's the emotions that the film/play elicits in you; and that's where the talents shine. And that's why Dangal scored, that's why JJWS scored, that's why CDI scored. Within this broader land-scape, lies the talent of the writer/director who tries to fit-in a rousing drama, without diluting the real-life inspired stories of the protagonists. [By the way, the national training camp scenes here are so reminiscent of the Phogat sister training scene in Delhi, it feels like a literal copy or super-imposed ones from DANGAL: Not just that, the anticipation, the desperate phone-calls of Taapsee and Bhumi, are eerily similar. Though, I will still give a lee-way to the director here that the times that we are talking of, are pre-whatsapp days.]
All the men appear as card-board cut-outs, which many viewers/reviewers found troubling: I did not, since it's made very clear initially and through-out the movie that the men are oafs, only smoking hookah, having sex, and sitting on their asses earning monies out of their women's' earnings. There's a sameness and lethargy to their lives.
Coming to the performances of the ladies, I am a little skeptical. I have never been a fan of Pednekar, but boy do tears well out of your eyes when she first holds the revolver and shoots a bulls-eye, and wonders, what's the deal about? Pednekar trumps Pannu, thanks to her more, physically volatile performance coming through her hand-gestures, et al., Tapsee unfortunately still is unable to shed her cunning mix of vulnerability and strength: And in a movie of such arc, Pednekar has pulled out all the stops.
As a post-viewing thought, I couldn't but wonder that 3 of the most successful Hindi films post the Khan-emergence, have been Aamir's; JJWS, LAGAAN, and DANGAL. And I am not talking purely in box-office sense, I am talking of the longevity of these movies and the impacts they have had.
A sure-fire imperfect film, and a one-time watch, and finely attuned performances from the ladies, not much thanks to their latex-wrinked faces.
7 Responses to "An Jo on Saand ki Aankh"
Very good review An Jo.

SKA has been declared tax free in Delhi, UP and Rajasthan. Overall public review is also positive.

LikeLike

You inserted a nice post viewing thought. I think that is now going to take over the discussion from Saand Ki Aankh. 🙂

I must say that I rate Chak De India over Dangal. Both are great movies but Dangal fell pray to put Aamir as Sarve Sarva.
So in the previous Khan era, my top 3 would be JJWS, Lagaan and Chak De India.

LikeLike

"I have never been a fan of Pednekar, but boy do tears well out of your eyes when she first holds the revolver and shoots a bulls-eye, and wonders, what's the deal about? Pednekar trumps Pannu, thanks to her more, physically volatile performance coming through her hand-gestures, et al., Tapsee unfortunately still is unable to shed her cunning mix of vulnerability and strength: And in a movie of such arc, Pednekar has pulled out all the stops."

This is a pure gold comparison.

LikeLike

Excellent observations, An Jo

LikeLike

Thanks Tony.

I just put this as a comment, not a review ; hence there're a lot of grammatical mistakes. Pardon me.

What I meant about JJWS, DANGAL, and LAGAAN and Aamir was regarding films having sports as the main theme. They surely belong to Aamir, with the exception of SRK's CDI..

LikeLike

You can correct it by posting it here. I will just copy paste 🙂

LikeLike