Choreographer Saroj Khan passes away
Link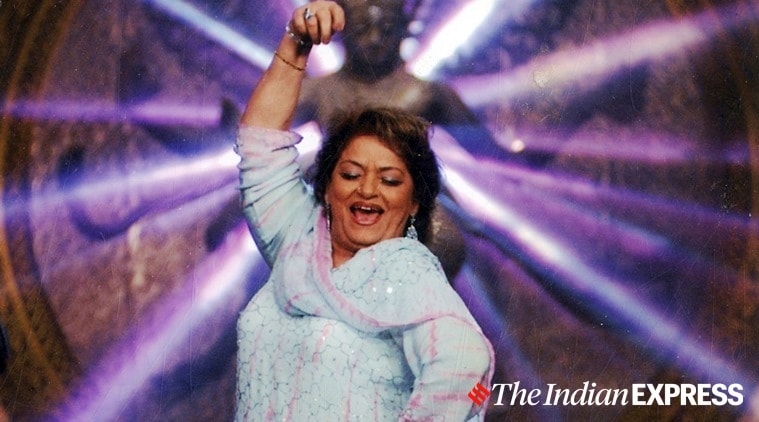 Bollywood choreographer Saroj Khan passed away in Mumbai on Friday following a cardiac arrest. She was 71.
Saroj's daughter Sukaina Khan confirmed the news to indianexpress.com.
Saroj Khan was born as Nirmala Nagpal. She joined the Indian film industry as a child artiste, playing the younger Shyama in Nazarana. She eventually became a background dancer in 1950s films like Bimal Roy's Madhumati under the guidance of dance director B. Sohanlal.
18 Responses to "Choreographer Saroj Khan passes away"
Sanjana:
Saroj Khan passes away

LikeLike

Om Shanti.
Thanks for making Madhuri Dixit for me, as i saw her on screen as the greatest female actress in Hindi Cinema.

LikeLike

"She then told me 'if you can't move your hands and legs you need to dance with your face'. She used to ask me to observe her closely and watch her face when she used to perform an entire song with her expressions. This is the reason why every heroine has become a heroine today only because of Master Ji. That's all!," Kareena said. "I used to lock myself in the bathroom and practice all of Master Ji's expressions because my mother always told me, 'if I want to be an actress, I must only watch Master Ji's songs and see the close-ups of all the heroines'. I used to really practice them and I think that's the reason why we have all become heroines today. It was only because Masterji used to show us every expression before the shot," she had said.

https://www.hindustantimes.com/bollywood/kareena-kapoor-remembers-how-saroj-khan-would-scold-her-if-you-can-t-move-your-feet-at-least-move-your-face/story-fVqzqq9kQWYC4CwvGp15wN.html

LikeLike

RIP – half of what Madhuri is, it is thanks to her. She recognized the
'talent' in Madhuri and how Mads could bloody throw-in a 100 expressions with her dances moves; and just with her face.

LikeLike

A great tribute!!

LikeLike

I feel actresses now don't like to work with me; they have never said it. I started getting less work.

Madhuri Dixit is one actress who gets all the moves right, she moves right, she smiles at the right time.

Dance choreographers nowadays don't have the power to tell the actors to give the right kind of expression that is required during the dance, but I see to it that my actors dance well and with expression.

All actors need to rehearse at least two days before the shoot.

If a song is extraordinary, then I myself dance as soon as the song plays, and whatever I do my assistants follow.

Within 20 to 25 minutes, a song is choreographed.

But if the song is dull, and we have to pep up the dance movements, then it takes me from three hours to one day.

I composed Ek Do Teen in 25 minutes, but Madhuri rehearsed for 17 days because she was not famous at that time.

It was that song that made her famous.

————————————————————————————-

Why did it take 22 hours for Kareena to do the mujra with Dil Mera Muft Ka in Agent Vinod? Because she did not come for rehearsals. Dil Mera Muft Ka is a duet between Kareena Kapoor and Mariam Zakaria. You never see two girls dancing in a mujra, but it is done in Bollywood.

Hiralal had choreographed a duet mujra on two girls, Rani and Madhumati, for the song Aankhon Aankhon Mein in Janwar.

The dance was a masterpiece. I have tried to create that kind of dance.

I did not demand two girls, the story demanded it.

Mariam introduces Kareena in Pakistan. Saif is dressed up as a security officer. Mariam will start the dance and Kareena will join in. I have choreographed this dance in the Kathak style.

Kareena has never learnt Kathak, that's why it was difficult for her.

The trained Kathak dancers in the industry are Rekha, Hema Malini, Aishwarya Rai, Madhuri, and Sonam.

————————————————————————————

Farah Khan did not choreograph Sheila Ki Jawani; (her assistant) Geeta Kapoor did. Farah Khan admits it.

That's why when she took the award on stage she said, 'Geeta, this is for you.'/

Why couldn't she give the credit in the film credits?

Farah can't dance. She doesn't even know to give the count. Sheila Ki Jawani is better than the other item numbers.

I thought Chikini Chameli was vulgar because he (Ganesh Acharya) emphasised too much on one hip movement and her bust. The song is not done like a lavni. He went for out-and-out vulgarity.

My life is about my family.

I don't attend parties.

I don't socialise.

I don't ask for work.

————————————————————————————–

https://www.rediff.com/movies/report/actresses-now-dont-like-to-work-with-me/20200703.htm

LikeLike