Sanjana's note on Annabelle Sethupathi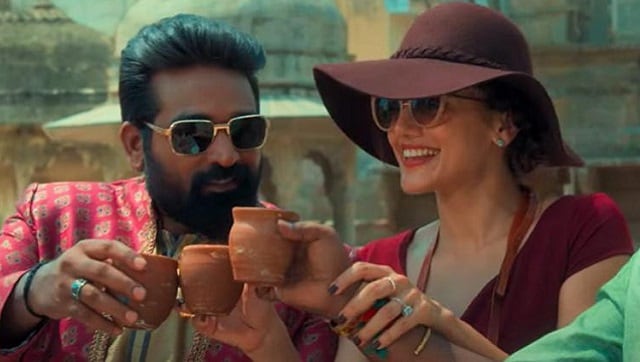 Spoilers
No one can take a film named Annabelle Sethupathy, Annabelle Rathore or Annabelle whatever seriously. This film is nothing but a spoof on ghosts. I wanted to watch it in tamil to listen to Yogi Babu's funny tamil slapstick comedy. But there was only Hindi version available on hotstar yesterday And today also no tamil version and I had to watch the next half in chaste Kannada version.. Half hearted truly!

Tapsee Pannu's English mam act was funny and so was Vijay Sethupathy's serious faced act. Tapsee was laughing throughout and looked like that she got the fun element perfectly.
The lady ghosts wore nice Kanjeevarams and the men ghosts wore their veshti with designer angavastrams. Good sartorial taste! As for Yogi Babu who was the leader of the ghost parivar, I only watched his expressions and his curly mop. He was lovable.
First half was over the top ghost comedy and the next half was the backstory of Rudra and the government official, who were the lead characters. Except for one serious moment when both were dying, nothing had the gravitas of a serious lovestory. Even tapsee's pregnancy has a comic take.
There is a sequel as the villain has not got moksha or salvation.
Did I like it?
Yes and No. But I did not mind it.
2 Responses to "Sanjana's note on Annabelle Sethupathi"
Spoilers
The villain is supercool and reasonable too! When the couple were talking before dying, he tells them that he mixed only a small amount of poison so that they can have all the time for small talk before finally dying! There are many more like this which make the film enjoyable and tolerable!

LikeLike