An Jo on AB's and SRK's come-backs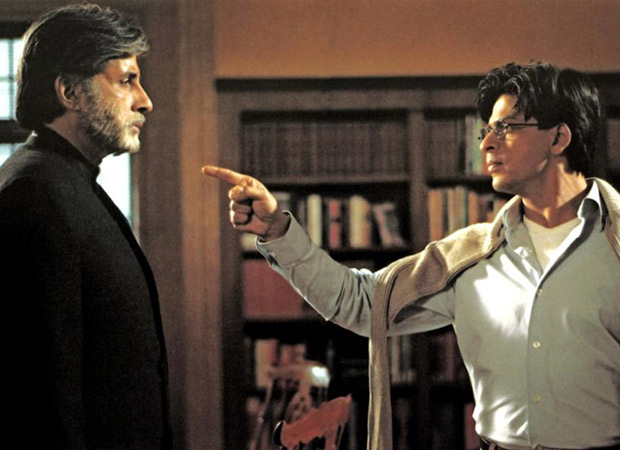 On AB's and SRK's come-backs…
Quite surprised at the turn — maybe the colors of Holi did play their magic — of tide here: Marcus, Master, everyone acknowledging AB's unparalleled stardom: Been wanting to write this for a long time. As I believe someone said here, it is difficult and futile to compare stars of different eras and their levels of connectivity to the audience.
Stardom; superstardom – these are acquired when one is young; when there's a Midas' touch: Everything one touches turns into gold. There comes a time when it stops; it has to stop and that's the law of nature. Amit's super-stardom stopped when the trends changed and the young Khan blood took over. But you see, even in this transitory period, there was an ocean of humanity swarming to see AKAYLA and AGNEEPATH. THIS, was during his supposedly horrible cine-times. As I have mentioned in my 3 series on AB on his 80th birthday — lost the 4th one since the laptop got lost — I have seen the craze for him. AGNEEPATH was a totally different scene altogether which I have elaborated upon.
In any true actor's life-span, there comes a time when he stops being the main draw: For some, it maybe 57, for some, 60. So fundamentally this imbecile question of "When was his last BB?" is a stupid culmination of American obsession with statistics without taking into consideration the age, the time, and the context. As one fellow rightly said, Amit was jobless in 2000 and went and asked Yash for a role resulting in 'MOHABATTEIN.' Look at the performance, against, a reigning king with age on his side and audience on his side. [Age, has got a lot to do with liking; one couldn't expect a Dilip Kumar fan to go ga-ga over Saigal's depiction of 'DEVDAS.' AB, so to speak,  was at the wrong side of age but still held his own against the mighty youth of Ash  and Shah. What followed then in his career trajectory, everyone knows.
Now comes the fighting point: SRK's come-back is terrific. Hats off to that. The fudging or non-fudging of number I don't understand, and I don't care. How much? 50 crore ki baniyagire, if true? So what? PATHAAN was good enough at 300-325, and I, being no BO expert like others here, had said right after watching the trailer that this film would easily be a hit. Whether it makes 550 or 600 crores is immaterial — to me at least — as it has done much more than expected.
Now where I differ is the comparison in AB's versus SRK's come-back. AB was at an all-time low, selling BPL, taking a 5 year breaking staying in NYC preparing omlettes on his own, and not bothering what's going on developing in the industry. The industry had leap-frogged; not in terms of quality of course, but the type of films coming out, with SRK's post-liberal love-stories with Babuji's approval, Nana converting the 'angry young man' to the 'perennially' angry young man, and Madhuri and music taking over the hearts. But there was one common thread; that of the lack of good writing skills. As a fan, I went bonkers over AB  choosing Mehul as his come-back director with 'MRITYU–DAATA'  which name-wise turned 'mrityu' for AB. After 5 years, he could have approached Mani for a May-December romance, or any other decent Hindi director: Heck, even the Aamir-Madhuri-Amit combination named 'RISHTA' from Indra Kumar could have at least guaranteed some initials thanks to the casting-coup.
SRK was already hot on the idiot box with all his associations with Lekh Tandon: And I, for one, loved him in those serials, though he proved his 'over-acting-ki-dukaan' in 'WAGLE KI DUNIYA.' From there on, he went on to become a super-star on the big screen and has made a fine comeback with 'PATHAAN.' But look at the 'factors-of-safety' he has taken, as is the term in Mechanical Engineering. He 'plays' to the 'gallery', cloaks in the veneer of nationalism, to please the current dispensation at the center and concludes with 'Jai Hind'!' Hardly a risk taking approach, is it? I haven't seen the film and hence, I do not know if he has uttered 'VANDE MATARAM' anywhere. If yes, hats off to him. But you do know, he went with the grain.  
AB, was left with no choice, and much against the chagrin of his 'advisors' went with KBC: 'Down-graded himself from big screen to the idiot box." But look what happened? The previous night, he was uttering — and even the folks in TN were listening — "Deviji, aapka uttar galat hai." And then there was 'AKS' released, and there was, using marital-rape. My point being, SRK had the luxury of using directors like Sujoy, Santoshi, Ramu, Dasgupta, Sircar. Why didn't he make a 'come-back' with these directors? Did AB have those chances? Who were the directors at the time? Ajay Devgun's father? Mehul Kumar? Indra Kumar? Name ONE director who could have utilized AB's potential as wonderfully as Santoshi or ROM did. Compared to what AB went through during his time, what SRK went through was personal turmoil, akin to AB being labeled a traitor and cow-dung smashed across all posters in Bombay  and nation-wide of 'SHAHENSHAH.'
And here's the thing, this is how things work: SUPERSTARDOM –> MEGASTARDOM –> LEGACY. AB is the legacy mode, He is not being asked to act to bring in the moolah as per baniyas. He is there, since the megartardom has made him immune to box-office shenanigans.   Do you remember Tendlya for his ducks or for his atrocious taking over the trio of Shoaib, Akram, and Was
10 Responses to "An Jo on AB's and SRK's come-backs"
Tdlr:
Amitabh is a bigger star than you imagine
SRK is not as bigger star as you imagine

LikeLike

For a moment I thoughtTDLR MEANT TEXAS DEPARTMENT OF LICENCE AND REGULATIONS; am an old man so short-forms take a long time for me to understand. Thanks much for not reading through yet summarizing!!

LikeLike

Lmao I did Google search and that's what came up

LikeLike

I did read, it's for others who wants Summary.

LikeLike

Comparing comebacks is difficult. Different times, different circumstances, different strategies adopted.

But i think more than a comeback, it is the stuff you do after the comeback that builds the legacy. AB has already done his bit as the grand old man to build an everlasting legacy.

We will have to see what happens with SRK from here on. If he continues to give Pathaan like success frequently for sometime now, then he will be leaving behind his own legacy after comeback. Jawan and Dunki have potential to do really well. And i heard fans talking about possible Dhoom 4 and Don 3 coming up next. But no idea if these rumors are true or not.

LikeLike

I wrote this, purely as come-back comparisons. Recently, Brendon Fraser was nominated for an award, and a few months earlier, he was supposed to be see all broken, bloated, and working as a waiter/bartender.

AB was at his lowest with Canara Bank stamping on his doors regarding 99 crores or attachment of property. AB could have gone to BIFR and just salvaged himself. Since his father's last name was attached, he decided to fight it out. A verifiable, very truth.

https://www.indiatoday.in/magazine/economy/story/19990426-after-dream-venture-abcl-go-bankrupt-amitabh-bachchan-faces-legal-battle-with-creditors-780749-1999-04-25

To come back from this level of bankcruptsy, and still belt the hell outta a terrific Devgan in KHAKEE, is the stuff of legends. Bachchan sold cadburys, cement, pens, bhujiyas, and what not legally permissible, but to bring tears out of an ordinary cinema-going public in PIKU or BLACK, is what 'legendary' means.

And bringing down oneself to the small-screen and connecting oneself from 8 -80 years young, one can see for oneself.

Narayan Shankar in Mohabbatein finally gave up wondering what he did wrong by trying to ensure discipline. When he lost to a schizophrenic teacher encouraging his students to harrass women in a girls college and infiltrating the house of a married woman, he knew shit got real.
Poor guy ended ip losing his mind in the end and started seeing his dead daughter like her sweater-donning-but-not-wearing boyfriend.

LikeLike