Earlier, related piece HERE.  I'm very interested to see this TV series — I hadn't liked the movie Gomorrah all that much the first time I saw it, but liked it a whole lot when I re-visited it last year (it is suffused by the sadness of cruelty and meanness, by the sheer sordidness of these criminal enterprises, un-redeemed by the frisson of glamor, by the glamor of power; Gomorrah the film never lets us forget that the power glorified in other gangster films is the power to humiliate, brutalize, and steal, nothing more). The review from The Guardian in this post is from a couple of years ago, and it's great news that instead of a re-make the series will be broadcast in the USA this year on the Sundance Channel – Qalandar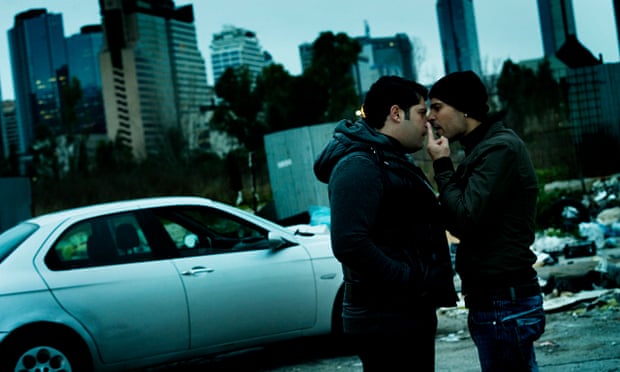 Excerpt: "The Camorra are a real-life outfit, Secondigliano an actual suburb. That's what marks Gomorrah out from the cops-and-robbers herd: its roots in reality. And there's nary a peep from la polizia. Roberto Saviano, who co-developed the show, is a decorated Neapolitan investigative journalist whose fearless 2006 bestseller about the Camorra put him on the mob's hit list; the government assigned him a bodyguard.
As such, Gomorrah feels grimly authentic, recalling not just The Sopranos but perhaps more vividly The Wire, with its from-the-hip shooting style, drug-trade plot and Bodymore-style cornerboys. Much of the action takes place amid a notorious failed housing project, the Vele di Scampia, which resembles a pair of giant, dirty sneakers dumped on a brownfield."
Complete review HERE.