An Jo on War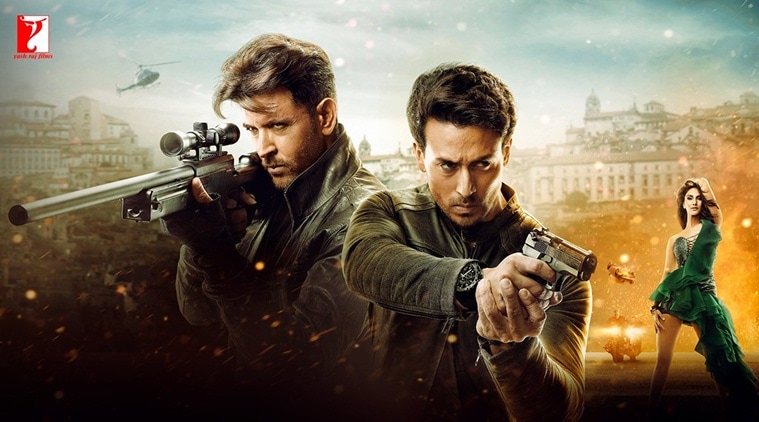 SPOILERS ahead…
War gives bacK YRF and mainly Aditya Chopra the mojo they needed; owing big thanks to Hrithik and Tiger. This is a great pop-corn, disposable film until the climax, and the pre-processing for the climax, which is darn stupid, whether for A, B, C,D, or whatever center one might have.
It's a simple story of intel-agents/spies working to neutralize/destroy an attempt by 'non-state' actors to destabilize India's defence stationed at the borders. It's a cat-and-mouse game between Hrithik's Kabir and Tiger's Khalid Rahmani. [Goddammit, when are they going to get rid of these religion-neutral names? Grow some b!@#s!]. Kabir supposedly goes rogue, and it's upto a familially-tainted Tiger, obviously a Muslim, to prove his patriotism. That's in essence the 'story' of this movie: I am not interested in going through the details of the story as everyone might have known it by now.

Tiger and Hrithik make this otherwise disposable film highly entertaining due to their camaraderie. There are superb meta-references here. Yes, in a Siddharth Anand film!! Essentially, in spirit, Hrithik plays the role of Sanjay Dutt in MISSION KASHMIR and Tiger plays the role of Hrithik. [There is even an action scene where Hrithik — watch from 2:15:55
gets beaten black-and-blue by Tiger but stops him with his fist; I remember the audience going crazy with wolf-whistles for Sanju]. So Hrithik's Kabir is quite in fine control, no-nostrils flaring, no jowls-shaking– even if it is, very minimally–senior, while Tiger's Khalid, as the student, is the student learning. Terrific ploy that by YRF! You can't even accuse of Tiger of not knowing how to act! He's a student for Kabir, and he's a student for us, the audience! How can you expect a student of perfection, inspite of being signed-off by an accomplished actor like Rana! So both these guys are so terrifically cast that half the job is done!
Now, the action scenes are brilliantly choreographed for a Hindi film. The motor-bike scene is superb and heart-pounding; and so is the scene where Tiger chases Saurabh in Marakkesh; reminding one of Vivek's superb chase sequence in Nairobi in Ramu's Company. And so is is the fight sequence where an ISRO chief is abducted — Wow, what a coincidence! We had MISSION MANAGAL, and the actual Chandrayan mission, and PM Modi hugging him and consoling him, and here, we have, well, a 'gaddar' ISRO chief — but highly reminiscent of the brilliant Hoffman's bridge scene in MI [https://www.youtube.com/watch?v=XQQ0MXzChcg]
Still, inspired or not, the bike-chase sequence after this is brilliantly shot.
Goddammit, these two are so terrifically cast that even YRF couldn't resist a sexual innuendo scene. Both Hrithik and Tiger walk-in in a wedding scene of one of their colleagues in Kerala [and I kept hitting my right side of the head and ear to get my 20/20 back to remind myself that I am not watching Mani's DIL SE where Manisha walks in on Shah Rukh's engagement day]. They walk into the first-night bed of the couple! For a moment I froze, is YRF so carried-away that they are going to have Khalid and Kabir make out on the flowers-adorned wedding bed!! And then a female walked in. And I heaved a sigh of relief. And then she said I can elope with Kabir! And then Khalid said 'Get in line.'! And then again I heaved a sigh of relief. Knowing YRF, you never know what they can do, or not do!!
The biggest dampener for me is the face-off process/motive. For a guy who recognizes in a combat-ridden zone that one has a deficiency, can't he recognize on a bloody metro when he is face-to-face with a plastic-surgeoned face that he isn't talking to the original guy?? All the joy, all the fun I had was literally erection-downed at that point. Such a great joy-ride was literally stolen away from me as an audience. What about the height, the skin-tone? Can Kabir really not smell the salt? Come on!!
BR Saab talks about the masala. It's an insult if you call this film a masala. It is not. it is pop-corn entertainment borrowing a single-grain of pop-corn from the rich masala of Salim/Javed's DEEWAR. The final scene, with Soni Razdan being proud of her son, is the initial and final scene of DEEWAR with Soni Razdan 'trying' to replace Nirupa Roy.
A great one-time watch; except for the ridiculous Face-off motive. Watch it for Hrithik and Tiger's combinatinatorial effect. Not quite at the level of Amitabh-Shashi/Vinod; or even Anil/Jackie combo.
But a great one-time watch.
93 Responses to "An Jo on War"