An Jo's viewings (Updated)

The Occupant
This is a remarkable but strange film; odious in its plot and quite strong in its philosophy. What happens to a man when he turns middle-aged, and has, supposedly, not climbed the ladder of success to pigeon-hole himself into a position commensurate with age — as deemed by society & professionals of course — and finds himself cornered? Answerable to his wife, to his kid [who claims that he's being made fun of in school but doesn't tell his father why?

The protagonist's 'apathy' turns into depression, then to obsession, and then to border-line criminal activity. This is almost like Parasite with the main difference being that this film isn't about class; but about ageism and its disturbing effect on the middle-aged worker.
I agree that some scenes in this movie are too convenient, but as the movie progresses, it grows strong and makes you ignore those 'factual' inaccuracies. [How can one so easily get in and out of a building that's so plush? No security? No cams?]
All the performers have done a wonderful job; especially Javier Gutiérrez and Ruth Diaz as Marga.
Eminently watchable, a fine slow-burn thriller.
Spoiler: If you still wonder why the film is named 'The Occupant' and the protagonist targets the new owner of his plush apartment, its a reminder that it is not the job that provides a man his pride/ego; it is the life-style that the job entails..
*****************************************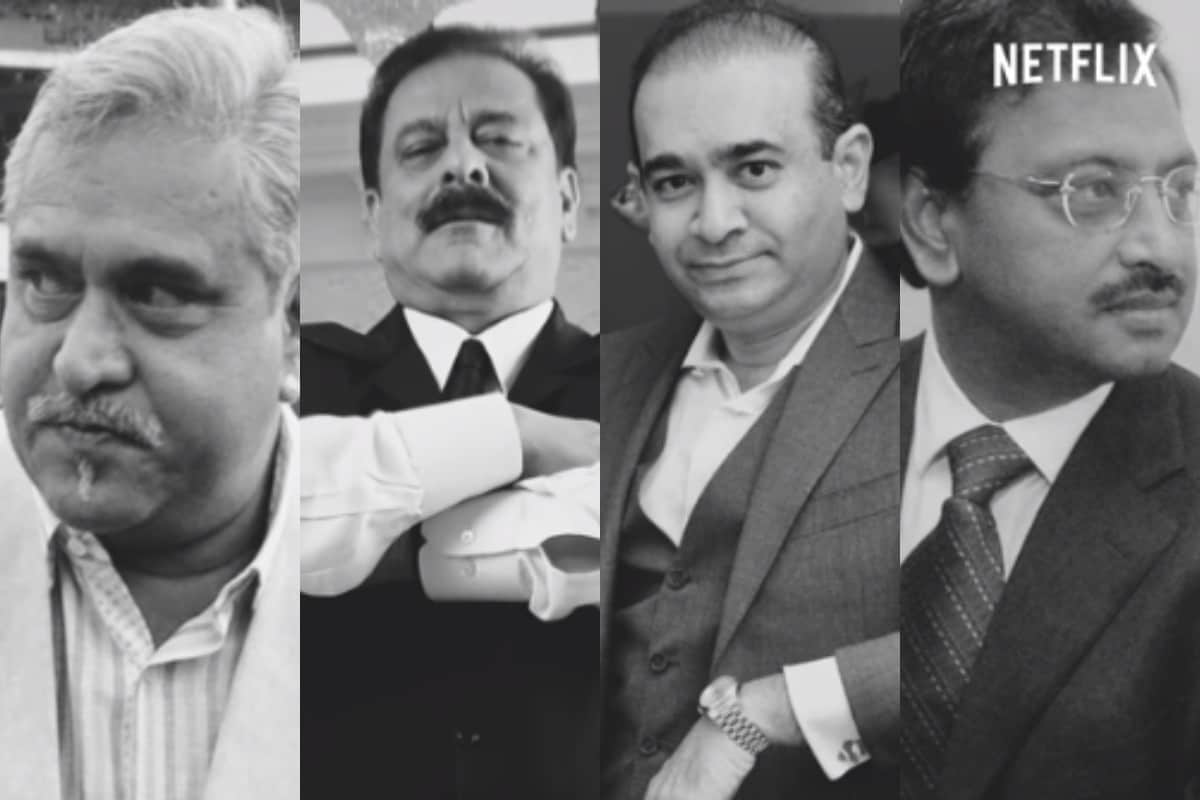 Finished watching BAD BOY BILLIONAIRES on Netflix. This is like a 101 course on how one can out-run/manipulate the public-banking systems in India and how the pyramid structure is indeed possible: More than that, it is the bread-crumbs one throws to others while one eats the 'ghosht.'
Suffice it to say, there isn't anything majorly revealing covered here if one diligently followed the newspapers – the actual ones – and analyzed the gaping loopholes. Mallya's is a straight-forward one, and I loved the fact that a guy from Mangalore; the son of a father belonging to the Gowd Saraswat Brahman family from Dakshin Kannada, made it so big with innovative thinking/surrogate advertising and had the nation in its grasp. I refuse to believe or concur that they were unethical practices. If a businessman is left with no choice for advertising alcohol, what would one do? Almost everybody does it, everybody consumes it, but cannot be flashed on for the greater good. The 'upgrade' from a low-cost, classless Kingfisher airline to a class-demarcated airline is what blew the gasket; and rightly so. The worst thing that is stacked against him – and again rightly so – is that he didn't pay Indian employees of his company, whilst, like a coward, he bowed down to the laws of other western countries and paid them their salaries! Why? Indians are cows?

Nirav Modi comes across as the most cunning of the three. He knew very well what he was doing; that was bribing and putting the lower-rung employees from PNC at risk. However, the technical brilliance of his employees; whoever they were that designed the 'stretchable' bangle; need to be pronto hired by other competitors. That was sheer brilliance.
Subroto Roy was the one that was the most difficult to slot into: But it was also painful since he was the one among the three who truly built an empire on the lives and miseries and hopes of the Indian poor. That he emotionally manipulated the national anthem of India and the poor to build these kind of indulgences is, of course, painful to see and hear. And extremely, extremely, wicked of him to send 127 trucks with the fake names of members and their contributions to the Sahara chit-fund scheme in different trunks to bamboozle SEBI and keep them tied-up!
The part that I hated the most was Siddharth Mallya's, his son's – sometimes I wonder how Deepika can be so lucky to get away with everything; from lying a) that her first film was OM SHANTI OM while it was the Kannada film 'Aishwarya' with Upendra to b) claiming to NCB that code-words 'hash' were for slim cigarettes and 'doob' were for thick ones (this should enter the Guinness book of records as the case where buying cigarettes which even an 8th grade kid in India can buy, and where there are stores set-up in front of schools, a 'code-word' in reverse is needed!) – claim that Vijay Mallya was made a scapegoat. Yes, per-optics, I can understand that whoever flaunts one's life-style and wealth, however well-deserved, is subjected to raised eye-brows in India, but, the straw that broke the camel's back, was that Mallya paid his employees in other countries, and did not for his employees in India. You see, in the US, you would be thrown into a jail if you didn't pay your employees; in India, apparently not; so, Mallya just used the non-stringent 'measure.'
And yes, this Siddharth Mallya, is, or was, taking 'acting' courses in LA. Yes, better take them. Tiger Shroff is Henry Fonda compared to this guy.
All in all, a good watch if one hasn't followed the news or the press. Otherwise, nothing new to add.
***************************************************************************************************

It's been a painful lockdown; somehow, family, drinks, movies, and work have been keeping me in the so-called 'zone.' It is weird that I have watched so many movies. This is good, but also kind of not good. The magic of movies or witnessing a drama on the stage is not something that can be restricted to being 'in-the-present.'
It is after the show is over that the real effects start throbbing one's mind and heart – and the sequence for these two can be substituted for order per a person's likings, per his or her inklings, and per the movie-maker's output on the screen. The issue that I have with OTT is just mine I believe, a personal thing. There are so many shows and offers that one misses the chance to 'marinate' in what the movies offer on screen. It is a different experience altogether watching a move on screen. The after-effects of movie-watching in a dark auditorium is so different and fulfilling that it is just not replaceable even whatever technology offers – whether it be a 75 inch screen or a projector in one's basement or 4k UHD or a Bose sound system or whatever. You see, the entire experience of watching a movie in a theater is not just sitting on one's behind and enjoying. The experience combines walking, riding, or driving to the theater, buying the tickets, getting greeted by the usher, sitting and watching the movie, walking out, coming home, and mainly, marinating over it. So far, for me at least, Netflix or Amazon haven't yet substituted as a replacement for cinema at the theater. But I am not a 20-year-old; I still prefer test cricket the 50-over format in cricket and hate the IPL and T20s. Maybe I am not changing with the times. Maybe I am not fit to.
Some of the things I watched:
KANNADA:
Alidau Ulidavaru (The handful survivors)
This is a fine psychological thriller shot in Bangalore regarding a TV host whose show is primarily regarding ghosts that venture around in abandoned homes or places with a history. It keeps you gripped throughout, and the narrative is good and takes you on a roller-coaster ride when the host decides to spend a night in a 'haunted' house.
This is a movie that has satire, black comedy, slapstick, all shoved in your faces, but the makers really made a good job of this mishmash. Danish Sait is fine as the cynical rick-shaw driver from a Muslim family in Shivajinagar, Bangalore, but it is Rangayana Raghu with his unbeatable comic skills that holds fort. The Shivajinagar 'Muslim lingo' – if I can put it that way – is superbly captured here and it is a pleasure to listen to it if one has been to the area or has stayed there. I had that pleasure and it's a nice reminder. This one is highly recommended. Remember, the joy is double-shot if you have lived in the area and experienced the unique 'Shivajinagar culture', especially when it comes to Muslims.
Nanna Prakara (According to Me)
This is an okayish movie and you can watch it if you are interested in converging storylines and multiple perspectives. Kishore is good as usual, Priyamani does her job well. The culmination of the movie isn't that great, but the progress is captured well.
MARATHI:
Aapla Manus (My Man)
It is a very smart move in presenting 'Baghban' in a thriller/suspense format. I loved it from that instant itself when I realized the motives of the movie which is, of course, based on Vivek Bele's Marathi play 'Katkon Trikon', which, in Marathi means the 'Right-angled triangle.' The exacerbation of familial relationships is the hypotenuse – and it can be stretched; and it keeps getting stretched when senior citizens and the 'independent' youth have varying ideas on life, finance, and 'happiness.' Nana is simply brilliant in the double-role he plays. I cannot stop raving about his performance. Every nuance and pain of a senior citizen is captured here, and as a detective, he is 'cunning' at the highest level and it shows in his performance. This is a must-watch for Nana's fans. Next is Irawati Harshe, with a terrific performance capturing the dichotomies of being 'present' in a joint-family and fulfilling the duties while also being an independent woman.
Ani… Dr. Kashinath Ghanekar (And… Dr. Kashinath Ghanekar)
This is a fine film; but what makes it great is not the direction, but the performances. Subodh Bhave, in a career-altering performance, plays Ghanekar—the one and only super-star of Marathi cinema, who is known to have saved Marathi theater from the clutches of Rajesh Khanna's Hindi super-stardom by yanking the Marathi folks back to the theater—with a theater-actor's delight and hunger. It is a great, great performance with the actor requiring getting back in character on and off-stage. An actor playing an actor is one of the toughest challenges that an actor encounters. One should make a clear distinction; however, there are times when the actor and the human converge, and that, that is the challenge to an actor and Subodh Bhave just nails it. The spouses, both Irawati Bhide and Kanchan, do a fantastic job of 'adjusting' to this 'difficult' life-partner. In one of the most memorable scenes, right in front of a poster of 'Mughal-e-Azam' – an epitome of melodrama – Ghanekar reveals his desire for a much-younger Kanchan. That scene struck me like lightning. Right in front of a theater screening 'Mughal-e-Azam', Ghankekar reveals his love for Sulochana's daughter Kanchan in such a matter-of-fact way, the contrast is fascinating. Kudos to the director Deshpande for 'fomenting' this scene. The biggest disappointment is, however, Sumeet Raghavan as Dr. Shreeram Lagoo, as well as Deshpande's broad strokes in capturing the rivalry between Dr. Lagoo's 'new-wave' acting versus Ghanekar's 'playing-to-the-gallery' act. Sonali Kulkarni as Sulochana Latkar gets the hair-style and quivering voice right. Prasad Oak as Prabhakar Panshikar is superb, and so is Anand Ingle as Vasant Shankar Kanetkar.
This film needs a lengthier review, and I don't have the time for it…
SPANISH:
After seeing Bachchan's 'Badla', and even before that, the Spanish original of 'The Secrets in their Eyes', — one hell of a movie – I thought of exploring Spanish cinema. To my disappointment, this is one of the most banal trilogies ever made. I heard that the books are best-sellers. Maybe I missed the point, but as a cinema, all that it does is display violence at its goriest giving Korean cinema a complex and provides us with a convoluted trilogy, at best.
ENGLISH: (UK)
A fine, fine film elevated by superb performances from Ian McKellen and Helen Mirren. [Is there ANY role that this woman cannot inhabit??]. It's a fantastic thriller that unfortunately didn't receive the critical acclaim that it deserves. But who cares for the critics right?
Unmissable. I would love to see Amit playing Ian McKellen's role, but it would be difficult to fit in the war stuff. Well, that's a challenge the writers need to solve.
A great limited series that features the story of a human-rights lawyer who takes up lost causes. It is a fine series that draws us into the protagonist's moody behavior and lets us empathize with her. The starting credits showing shots of Blair, Thatcher, and finally, the great Trump are superbly imagined. A gripping series.
As much as I have enjoyed watching all the above, after watching 'Tenet' recently in a theater, I have concluded there is NO replacement for that kind of experience. Theaters are built for a reason, and 'movies' are that reason. They are inseparable.
48 Responses to "An Jo's viewings (Updated)"